The Cubs and the hiring of Rachel Folden to the minor league staff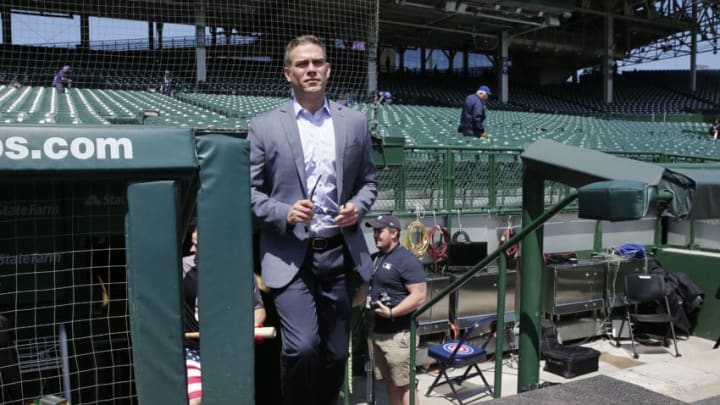 Photo by Nuccio DiNuzzo/Getty Images) /
The addition of ex-Chicago Bandits softball player Rachel Folden to the Chicago Cubs minor league staff has already impacted more than just their hitting.
On Friday, the Chicago Cubs announced eight new additions to their minor league staff to help with their hitting. There is no denying that each hire is talented in their own right, but the hiring of Rachel Folden brings something different to the table: a woman's perspective on baseball.
Yes, you heard that right. The Chicago Cubs have hired a woman to take on the roles of lead hitting lab tech and fourth coach for both of the Cubs' Arizona league affiliates. It should be noted that Folden is the first woman on the coaching staff in franchise history.
More from Cubbies Crib
Folden will be joining a rather small amount of women given coaching opportunities across Major League baseball. However, it seems that the number of women working in the baseball realm might be going before our eyes.
On the same day as the Cubs' announced the hiring of Folden, the New York Yankees announced the hiring of Rachel Balkovec to join their club. Balkovec, 32, will be joining the Yankees as a full time hitting coach. It should be noted that it is believed to be the first female full-time hitting coach hired by any major league organization thus far.
Unfortunately, with the recent hires of women within baseball comes the backlash from some that these are diversity hires in place to make Major League Baseball appear to be more progressive than the latter. While the hiring of Folden will bring in positive PR and admiration for the Chicago team, I highly doubt that a team looking to compete seriously would hire somebody who was not fit for any given position.
The Cubs have been trying to bolster their roster and the inner workings of their organization alike for the ultimate goal of competing in 2020. It seems as if some people find it hard to believe that a woman could even be qualified for these positions, let alone the best person for the job. Yet, here we are in a day and age where women and their talents, passions and admiration involving Major League baseball are finally being recognized and rewarded.
As a female enamored with the MLB, and the game of baseball itself, this hire woke up the little girl inside me who had always dreamt of having a job involving baseball one way or another. I know I'm not the only woman in this position. The addition of Rachel Folden opens doors for women, such as myself, to get our foot in the door working in a male-dominated industry like the MLB, and I am here for it. I cannot wait to see what wonderful impact women can make on the MLB, especially Folden, with this hire.
After playing softball at Marshall University, Folden, 32 played in the National Pro Fastpitch professional softball league from 2008 to 2012. She spent time with both the Carolina Diamonds and the Chicago Bandits.
Also, she served as an assistant softball coach at Valparaiso University between 2009 and 2010. In 2010, Folden founded Folden Fastpitch, where she served as a private fastpitch instructor. Not only that, in September of 2019, Marshall University named Folden to the Marshall Athletics Hall of Fame.