Chicago Cubs don't need to trade anyone to compete in 2020
Sportswriters and fans think that a major trade of one or more key pieces is necessary for the Chicago Cubs to compete in 2020 and beyond. But is it?
Trade ideas for no less than six Chicago Cubs starting players, from Kris Bryant and Willson Contreras to Kyle Schwarber and Jason Heyward, have littered the baseball space. Some even proposed that Javier Baez be moved.
Certainly, a lot of this is offseason Hot Stove clickbait nonsense. So what would a lineup of current Cubs in spots that leverage their best performances look like?
What about this one through three?
1) In 2019 a .287/.368/.309 slash and in 2018 a .285/.371/.439 slash
2) A career .298/.398/.534 slash and a .932 OPS
3) In 2019 a .268/.377/.505 slash and a .272/.369/.451 slash in 2018
Those are Ben Zobrist's numbers when batting in the one spot. Kris Bryant and Anthony Rizzo occupy the two and three spots. The value of on-base skills in the one spot cannot be overstated. Batting second with no one on base, Bryant has slashed a solid .277/.374/.502. With men on base, his slash is dramatically better: .293/.398/.535.
As always the Bryant trade rumors swirl with tornadic velocity. Some believe that because Scott Boras is his agent Bryant is destined to leave. No one ever says where exactly.
Second is that he's overrated and not a clutch hitter. Compared to who he is overrated? Again, no one ever says. As for his clutch factor, his career slash in 569 high leverage plate appearances is .272/.380/.463 and a .842 OPS. That's not bad but those career numbers are actually worse than his 2019 high leverage slash of .303/.413/.566 and .979 OPS.
And to date, no one has proposed even a satisfactory replacement for his bat in the line-up.
Fixing the You Go, We Go problem
The Cubs have played leadoff hitter roulette since Dexter Fowler left and it's hurt not just Bryant but the whole team. This is one of the main challenges for the Cubs heading into 2020. Zobrist is a good place to start. However, more will be needed at the leadoff spot.
The four and five spots
4) Career .282/.323/.575 and .898 OPS
5) Career .280/.385/.500 and an OPS .885
Clearly the best pair here we already know, Baez and Contreras. This is what makes the "trade Contreras" talk so bizarre.
The Cubs don't have a minor league catcher anywhere near MLB ready, Contreras' arm controls the running game, and he's probably the fastest catcher in MLB. Why would you want to substitute Victor Caratini's career .252/.326/.382 slash and .708 OPS for Willy's? Truly a head-scratcher.
The need to feed the beasts
6) A career .247/.357/.443 and .800 OPS
7) A 2019 .292/.388/.506 slash and .894 OPS in 103 PAs
8) In 2019 242/.390/.394 slash in 41 PAs and a .287/.367/.426 slash in 110 PAs in 2018.
The second weakness in the 2019 Cubs line up after the one spot was the bottom of the order. This is where rallies went to die.
The key role for the 6-7-8 hitters is to turn over the lineup and feed the beasts at the top. OBP rules here, and Schwarber, Addison Russell and Heyward are at their best in the six-seven-eight spots.
Russell is the surprise. No doubt he benefitted by Maddon's penchant to play matchups. However, a 149 OPS+ in the seven-spot is outstandingly good. Additionally, inserting Russell at second strengthens the middle infield by ending the seven-man merry-go-round of second basemen the Cubs used in 2019.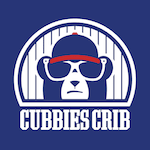 The real need in 2020 is to find a leadoff hitter and put the rest in a position where they are most likely to succeed. If the Cubs do that this is a team set to compete without having to trade any of their starters.