Former Chicago Cubs catcher Joe Girardi is headed to Philadelphia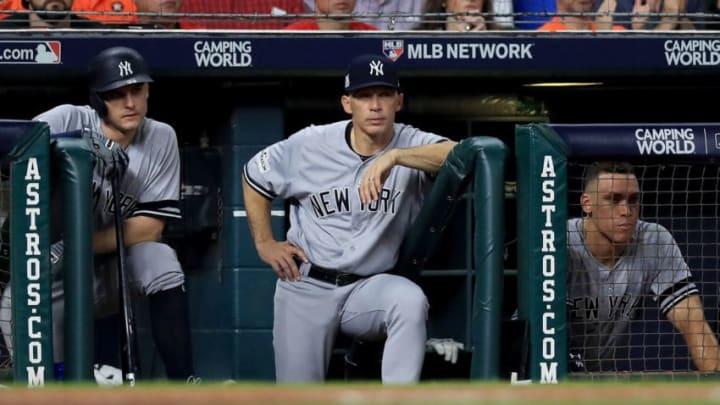 (Photo by Ronald Martinez/Getty Images) /
After the Chicago Cubs passed over Joe Girardi, the old-school former backstop is joining the Philadelphia Phillies as their next manager.
The Chicago Cubs were the second team to fill their managerial vacancy, hiring former catcher David Ross, which might be just what the Cubs need right now. The Philadelphia Phillies quickly followed quit, hiring a former Cubs catcher of their own in Joe Girardi, a man with many Windy City ties.
Girardi played for the Cubs twice, first making his MLB debut with the club in 1989. He hang around until 1992 before being traded to the Colorado Rockies. He then went on to the New York Yankees, winning two World Series rings before coming back to the Cubs for three more seasons. He finished his career with a short stint for the St. Louis Cardinals in 2003.
After his playing days, Girardi became a coach for the Yankees in 2005 before earning his first managerial gig with the then-Florida Marlins in 2006. In true Marlins fashion, he was fired after just one season. He went 78-84 and won National League Manager of the Year.
More from Chicago Cubs News
The first time he was mentioned as a Cubs' managerial candidate came after the 2006 season. He interviewed just days after the job came open in Chicago, but management opted to go with veteran Lou Piniella instead.
Girardi moved on, becoming the manager of another one of his former teams in the Bronx in 2008. He managed the Yankees for 10 seasons, through 2017, accumulating a record of 910-710, while winning one World Series championship.
He made the postseason seven times, advancing past the first round four times and his Yankees teams won the division on three separate occasions.
After the 2013 season, the Cubs once again looked to hire Girardi. His contract with the Yankees expired and the Cubs had just fired Dale Sveum. Given the state of the organization at that time, can anybody really blame Girardi for passing on the position? He ended up re-signing with the Yankees through 2017.
The Cubs hired Rick Renteria for the 2014 season, which, of course, led to the hiring of Joe Maddon in 2015. After Theo Epstein elected to move on from Maddon after a disappointing 2019 performance, the Cubs interviewed Girardi again for a third time and he was once again passed over – this time for Ross.
Girardi may have held out on the Phillies job until the Cubs job was filled. It's no secret that Girardi was interested in the opening, having interviewed three times now. The former catcher elected to step down from managing the U.S. National Team to pursue opportunities in Major League Baseball.
He has that opportunity now in Philadelphia, where he looks to get a fairly talented Phillies team over the hump that they have been stuck on for a number of years now.