Chicago Cubs: When having a kid means missing a baseball game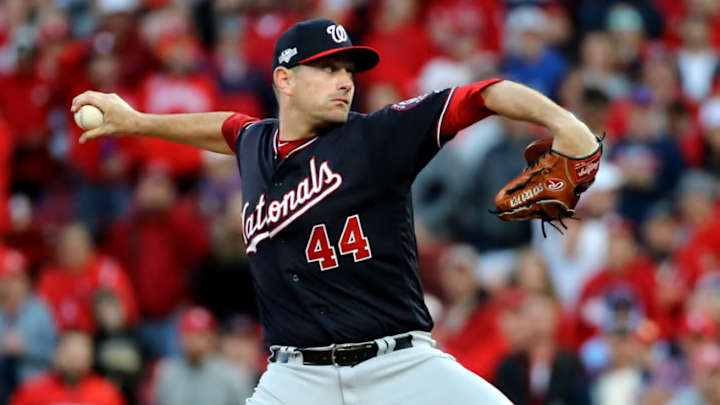 (Photo by Scott Kane/Getty Images) /
Although the Chicago Cubs aren't playing this October, off-field events made it impossible for me to not be a Washington Nationals fan this weekend.
Boy, am I glad I root for a team who knows in which order to place priorities. Over the last few years, the Chicago Cubs have put several players on paternity or family leave and have stressed family over baseball.
They put their money where their mouths were (or maybe recouped said money) when they allowed veteran utility man Ben Zobrist to take an extended leave to be with his family following marital issues in early May. It seems like the Washington Nationals have the same family-first sense of morality if the last few days are any indication.
More from Cubbies Crib
Nationals pitcher Daniel Hudson probably didn't want the spotlight and media firestorm that rained down on him and his simple decision to be with his family for the birth of his third daughter on Friday. Check that, he definitely didn't want it. He also definitely didn't have a decision.
As the father of two small girls, one of whom is the same age as Hudson's second daughter, I understand exactly what it means to be in the delivery room with your wife and see the birth of a child. It doesn't matter whether it's your first child or your 14th, it's a special moment that you will never get back. You have to be there. Period.
That's not to say that pitching in the postseason isn't a highlight in your career, but it's just that – a highlight in your career. When you're done playing baseball, you'll still have your children. Family is forever, and you can't get back that moment when you see your child come into this world. To think that someone could or would even question that just goes to show the kind of warped idea they have of family or children in general.
While most of us peons lead normal lives and drive our Honda Accords to normal jobs every day, we often forget that MLB players are just trying to live the same American Dream we are – complete with a little nicer house, picket fence, black lab and kids.
If you don't think your cubicle mates would care about you skipping out on a few days of pushing reports to be with your wife during delivery, what makes you think any of the guys in a big league clubhouse would care about one of their "brothers" missing a game to be with his family for the birth of a child?
Former Cubs bench coach-turned Nats manager Dave Martinez had Hudson's back. So did his teammates, as Sean Doolittle proved in his honest, uncensored, and 100 percent correct comments. Even other players around baseball seemed to side with the common fan a lot more than former executives who felt the need to espouse asinine ideas on Twitter.
The second best part about this whole fiasco and controversy is that the Nationals ended up winning without Hudson on Friday night. To add to the good karma, they also won on Saturday night, with Hudson getting the final two outs. Cubs fans are happy about the Cardinals going down two-games-to-none for sure, but baseball fans in general seem to now be behind the underdog Nats and their family-first vibe.
The best part is that Hudson got to be with his wife and kids for the delivery. He was exactly where he wanted and needed to be at that moment. Just ask all of his teammates who are now up 2-0 in the NLCS.
Family first in America's Pastime. Now and always.
Despite some of the negative and delusional comments about how Hudson shouldn't have been there to be with his wife, one of the best things to see on twitter during this controversy was the overwhelming majority of commenters who quite clearly still possessed their soul, humanity, and sense of priorities. At least the whole world hasn't gone mad.