Chicago Cubs: Offense can't carry the struggling rotation all the way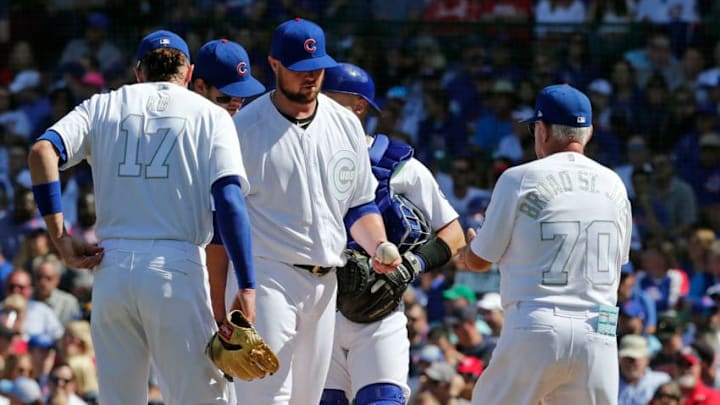 (Photo by Nuccio DiNuzzo/Getty Images) /
The Chicago Cubs will need their rotation to step up down the stretch if they want any chance at bringing home another National League Central crown.
The offense broke out in historic fashion over the weekend, scoring 47 runs in a three-game series for the first time since 1894, en route to a sweep of the lowly Pittsburgh Pirates. The Chicago Cubs did exactly what they needed to do, and now sit just two games back of first in the division.
The roller coaster season continues and everyone needs to buckle up for these last two weeks. It was an awesome weekend at Wrigley, but watching the starting pitching struggle the way it has is definitely a cause for concern. This is a group that has to elevate their play if this team wants any shot at the division.
More from Cubbies Crib
Kyle Hendricks and Yu Darvish have done their job for this staff and I am confident giving them the ball in a big game. The next three in the rotation have really made fans hold their breath. Jon Lester, Cole Hamels,and Jose Quintana have really put a lag on this pitching staff and add pressure to the offense to put up huge numbers like they did against the Pirates.
Take Quintana to start. The lefty has not lasted more than five innings since August 18 and has combined for just 10 1/3 innings in his last three starts, while giving up 13 runs and 20 hits in that span. I would say he is the Cubs' number three at this point, so those numbers will certainly not get the job done.
Lester is next. Since the All-Star Break, he has a 5-4 record with a 5.83 ERA. Yikes. He's a grinder, and it seems like he's had to grind a little bit more since the break and the struggle has been real. The club's Opening Day starter has quickly spiraled into arguably the five spot in the rotation.
Ever since Hamels suffered that oblique injury he just doesn't seem the same. Since the All-Star Break, he has sported a 1-4 record with a 6.49 ERA. Just tough to stomach. Things were so promising before his injury, but now the veteran lefty is showing some big signs of fatigue.
These three arms really have to break out of their funk. The Cubs offense has kicked into gear, but they can't score 15 runs every game, especially with seven or their last 10 against the Cardinals, who notably have the best starter ERA (3.33) in all of baseball in the second half.
The Cubs have a serious chance to win this division, but they need the dominant starting pitching to show up once again. Making the playoffs would be special, but we saw how this team's season came to a sudden halt in one-game-playoff games a year ago, and I'm certain no one wants to go through that again.
We need this rotation now more than ever. I don't think I've ever watched a more up-and-down team, but getting some consistency from this rotation would really help ease the severity of this team's peaks and valleys with just two weeks to go.
The Cubs are starting to realize who they are once again and that's bad news for the rest of the league. As the team says over and over, in order to do something special, we need everybody in.