Chicago Cubs: Anthony Rizzo ankle injury feels like a gut punch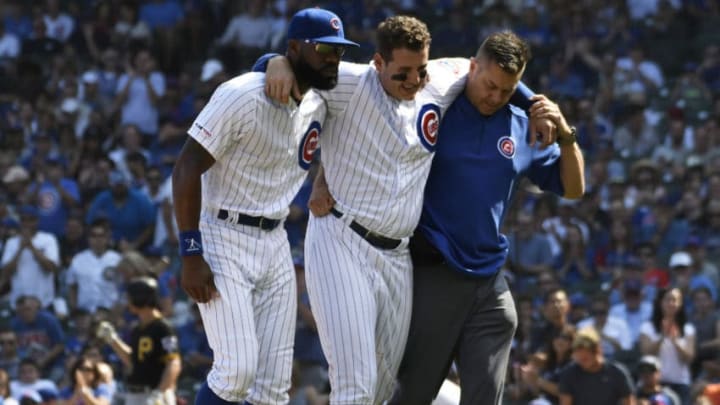 (Photo by David Banks/Getty Images) /
A week after watching the rival Milwaukee Brewers lose their star, the Chicago Cubs could now face the season's final two weeks without Anthony Rizzo.
If you have even a casual knowledge of the Chicago Cubs, you're aware what Anthony Rizzo means to this organization. He's one of the last guys left standing from the dark days, when the club lost 90 or more games on a fairly regular basis. In the clubhouse and on the diamond, he's become the unofficial captain – a designation last bestowed upon Sammy Sosa.
Now, the team could play the final two weeks – including seven head-to-head matchups with the first-place St. Louis Cardinals – without his presence in the lineup.
More from Cubbies Crib
Rizzo sprained his ankle while fielding a bunt in Sunday's victory over Pittsburgh. X-rays were negative – but that doesn't mean much outside of there at least being a chance he could return before the end of the year. But these types of injuries are fairly difficult to put a hard timeline on.
""On the field, he was in some pretty good pain. You knew he was coming out of the game," manager Joe Maddon told MLB.com after the game. "We'll wait and see how it plays out. There's the potential that it's not going to be that long. Let's just remain optimistic and see what they say.""
Losing Javier Baez earlier this month seemed like a worst-case scenario. I mean, we're talking about the runner-up in last year's National League MVP voting. But now, we're seeing what a true worst-case scenario really looks like with the loss of Rizzo.
After searching for any sort of stability at the top of the order, Maddon again turned to his first baseman to help set the tone for the offense. The result? The team's largest offensive outburst in a three-game series since 1894.
So it's back to the drawing board in terms of the seemingly age-old question of who to lead off for this team. I'd assume we'll see Ben Zobrist there more often than not, but the entire dynamic of the lineup is unquestionably altered without Rizzo.
The slugger had an outside chance at yet another 30-100 season, not to mention he needs just one more contest to hit the 140-game plateau for the sixth consecutive year. Despite his back issues that pop up from time to time, this guy has been incredibly durable in his Cubs career.
Fingers crossed that this looked worse than it actually is. Chicago might have enough depth to weather the storm short-term, but if they punch their postseason ticket for the fifth consecutive year, they'll need Rizzo in there to have a shot at anything more than an early exit.