Not a lot is going right for the Chicago Cubs halfway through the season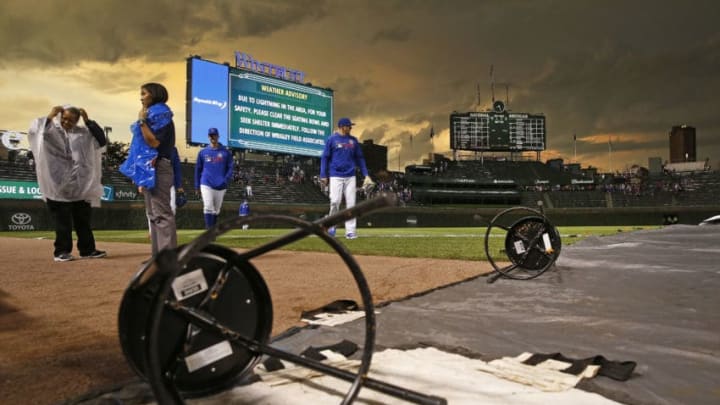 (Photo by Nuccio DiNuzzo/Getty Images) /
Nearing the All-Star Break, the Chicago Cubs look like a team without a sense of purpose, despite a star-studded roster and a strong veteran presence.
The palpable excitement and energy that emanated throughout Wrigleyville after last Thursday's come-from-behind win that featured the debut of closer Craig Kimbrel is gone. After the Chicago Cubs dropped two of three to the Cincinnati Reds this weekend, the team is searching for answers to a myriad of questions with less than a week until the All-Star Break.
We can now close the book on a forgettable month of June – one which saw the Cubs go 14-15, marking their first sub-.500 month since May 2017. The offense, which stole the show in all the wrong ways late last season, has largely gone cold, despite the team's positive run differential last month, with two exceptions: Jason Heyward and All-Star Kris Bryant.
More from Cubbies Crib
Heyward has been nothing short of stellar since the start of June, slashing a team-best .326/.379/.589 with six home runs, five doubles and 17 RBI. In his 28 games last month, he struck out just 19 times – a testament to his approach and discipline at the dish this year. 
As for Bryant, the guy has been filling up the box score – despite a lack of power. He's managed just three long-balls since the end of May but is hitting .300 on the dot over the last month and boasts an impressive .397 OBP during that same span.
From there, though, mediocrity is running rampant. No Chicago position player is hitting higher than .262 – and while many on-base percentages are notably higher than averages – the lack of timely hitting has once again taken center stage.
Recently, Cubs general manager Jed Hoyer spoke to 670 AM WSCR about the potential need to add to the team's offense, offering up confidence in this group of players, many of whom contributed to the team's 2016 World Series title, but keeping it real, as well.
""There are some areas of frustration like we just discussed. We haven't been very good in those (situational hitting spots). I do think we'll certainly look outside for answers. I think that whether we find those answers is a question. I think the trade market could be tough, and we're not going to make change for change's sake. But this is an offense that probably doesn't have quite the depth that (it used to have).""
The team may or may not get Ben Zobrist back in the second half, but after months off the field, it's not realistic to expect him to be at his best right away – which is exactly what the Cubs need. Ian Happ continues to work through his own issues at Triple-A Iowa and there's not much impact talent waiting in the wings there, either.
It's on this group to start delivering in key spots – something they've failed to do for some time now. As a team, Chicago is hitting .274 with runners on – the second-best mark in the Senior Circuit. But with runners in scoring position, that mark plummets to .243.
If skipper Joe Maddon can help get his club back on track over the final six games of the first half (four in Pittsburgh and two at Guaranteed Rate on the south side of Chicago), these struggles could become a distant memory. But with the entire NL Central piled on top of one another, it's anybody's division – and right now, that's not exactly a comforting thought.