Chicago Cubs: Craig Kimbrel should only be the start to the pen overhaul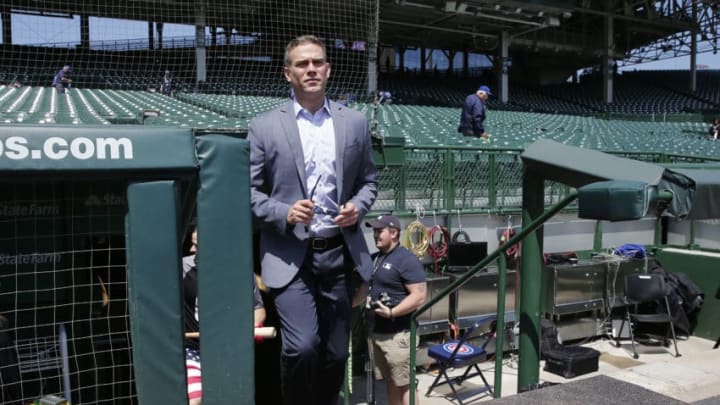 Photo by Nuccio DiNuzzo/Getty Images) /
The Chicago Cubs are already aware that they'll have to make a move for Craig Kimbrel when he's ready to return. But that shouldn't be the only move they make.
When the Chicago Cubs signed Craig Kimbrel, they knew they'd need to make a move in the bullpen. But aside from Kimbrel, there are deeper issues out there that the Cubs need to address. Every team in baseball has to make changes on the fly with their bullpen. Even if it's not due to injury, performance has a bearing on who's in and who's out.
The Cubs bullpen has been stricken by both this season. To start the year, they knew they would be without Brandon Morrow for the first month. Three months later, he's still not ready. There's an improvement, but he not likely to see the mound until after the All-Star break. Xavier Cedeno was signed after a strong year in 2018 between the White Sox and the Brewers. But he was injured during the spring, and once he did return? He's been unable to match last years numbers. Now he's on the IL again and might not get another shot.
The Cubs lost Pedro Strop to the same hamstring injury as the year before. So they have been mixing and matching out there the entire season. Allen Webster joined the club, but he's on the IL now, as well. Tim Collins has been up and down, and Dillon Maples seems closer to latching on but isn't quite there yet.
More from Cubbies Crib
So when Kimbrel is ready, someone will need to be moved. Initially, I thought it would be Kyle Ryan. He's pitched well, but he has an option remaining, so they wouldn't have to expose anyone to waivers.
But now, I'm convinced it needs to be Brad Brach. He's allowed a run or more in seven of his last eight appearances, turning in an awful 16.43 over that span. His BAbip is .586 while allowing 14 ER in 7 2/3 innings. He's hurting us more than helping. Brach signed a one-year deal this offseason, and cutting ties with him would be best.
This is tough for me to say, but it's time to move Mike Montgomery. He will always be remembered in Cubs lore for getting the last out of the World Series. But he still wants to be a starter, and I think we might be able to move him for a few mid-tier prospects at the deadline. He's currently sharing 'long man' duties with Tyler Chatwood, who has proved many people wrong and had success in the bullpen. He's still walking too many, but he's not allowing them to cross the plate.
And Monty isn't a left-handed specialist. Will Smith of the Giants is a possibility. Add to that the Giants rotation has been banged up, and Madison Bumgarner isn't a spring chicken anymore. Montgomery might fit well into the group. I don't see the Cubs 'overpaying' for Smith, so it's not going to be a 4-for-1 deal or anything like that. But I also don't think it will be a 1-for-1 deal, either.
But while the Chicago Cubs might be interested in a lefty specialist, it cannot be forgotten that the rules change next season. There will be no more 'one and done' unless it ends the inning. A pitcher will be required to face three batters. This could put several left-handed relievers out of work.
For the Cubs, it might be time for Adbert Alzolay to get a shot. The experience he could gain from pitching out of the bullpen could help him transition to a starter–where the Cubs have him projected. With Cole Hamels in the last year of his contract, Jon Lester on the tail-end of his six-year deal, Jose Quintana has a club option for next year, and Yu Darvish not being the starter they were hoping for–the Cubs need to be looking ahead.  Only Kyle Hendricks is locked in long-term after signing an extension this year.
Some are blaming the bullpen issues on Joe Maddon and how he is using them. A piece recently from Da Windy City focuses on if that's why Maddon hasn't been offered a new contract. Could his use of the bullpen be the reason you wouldn't bring back a manager that has done nothing but win in his time here?
It shouldn't be. Maddon does indeed play favorites. That much I'll admit. But sometimes he does that because the other pitchers he has to pick from aren't getting the job done.
Kimbrel is going to help Maddon stabilize his bullpen. With a healthy Strop and Kimbrel to close, that's a great 1-2 punch to have. Mix in Steve Cishek, Carl Edwards Jr. and Brandon Kintzler, and you're in fantastic shape.
Changes will come to this bullpen sooner than later. It's just a matter of how much the Chicago Cubs' front office is willing to give up to get what they need.