Chicago Cubs: Draft pick Mike McAvene suspended for recent comments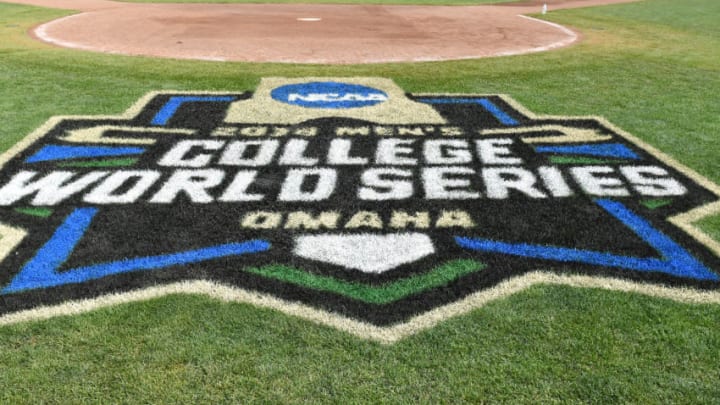 (Photo by Peter Aiken/Getty Images) /
Chicago Cubs draft pick and Louisville Cardinals closer Mike McAvene gained fame last week for telling an umpire that a call was 'horrible'. That's right.
While you never want your players (or future Chicago Cubs players in this case) getting tossed from games, there are different degrees of unsportsmanlike conduct and you can live with some more than others. On the fair play-o-meter, telling the umpire one of his calls was "horrible" barely registers, let alone moves any needles.
Current Louisville Cardinals relief pitcher and recent Cubs' draftee, Mike McAvene, was tossed from a game he was one pitch/out from finishing in the ninth inning, for telling the ump (in not so many words) that he wasn't doing a very good job calling balls and strikes.
More from Cubbies Crib
Was he right? Maybe. Was saying the word "horrible" egregious, even for an amateur collegiate player? No, not really. But, what's done is done and McAvene had to sit through Louisville's 12-0 and 14-1 pounding of East Carolina in the Super Regional this weekend.
He will also have to sit through games in the next round against the winner of the Duke-Vanderbilt series (where Vandy freshman Kumar Rocker just threw a no-no and struck out 19 on 130 pitches).
While Louisville didn't seem to need their stud reliever against East Carolina, McAvene had to sit in the clubhouse because he dared to question an umpire's call, something you've probably seen Jon Lester do a million times.
And, while McAvene is certainly not Lester, this year's 103rd pick in the draft seems to have a little fire in his belly and, more importantly for the Cubs going forward, a lot of fire in his right shoulder.
Regularly pumping balls into his catcher's glove at 98, 99, and even 100 mph, the Larry Bird look-alike McAvene (they're both from Indiana, too) is the kind of guy Cubs' fans have been dreaming of and drooling over for years (you did hear we signed a hard-throwing reliever recently, right?). I think Cubs fans can forgo feigning distaste for this unsportsmanlike conduct and chalk this up under the "fiery competitor" category. Judging from McAvene's teammates and coach's reaction, that's exactly what it seems like from the outside looking in.
More from Chicago Cubs News
His coach at Louisville, Dan McConnell, opined (and probably was lamenting, to some degree, social media) on the beauty of amateur sport, "we're not choir boys here – we have our best and we have our worst."
For the games against East Carolina, his teammates hung his jersey in the dugout and fans even put up "Free Mike" signs in the outfield. Coach McConnell even seemed to be for the fans supporting his players, even through mild gaffes and errors in judgment.
So, what effect, if any, does this have on the Cubs and their newly drafted fireballer? Let's put it this way – if McAvene is blowing it by guys and hitting triple digits on the Wrigley jumbotron in three years, no one is going to care about this suspension.
Nor should they, as it's at worst a minor slip up from a guy in the heat of battle who is frustrated with not getting a borderline call. At best, it's a fire and competitiveness that will play fantastically on the mound at Wrigley Field and all over the country.
Let's hope we are seeing McAvene lighting up the radar gun on the Northside in the near future, and let's also hope that the umpires at the MLB level won't have the same kind of rabbit ears on top of their masks.