Chicago Cubs: Jon Lester starts it off; Cubs ready to go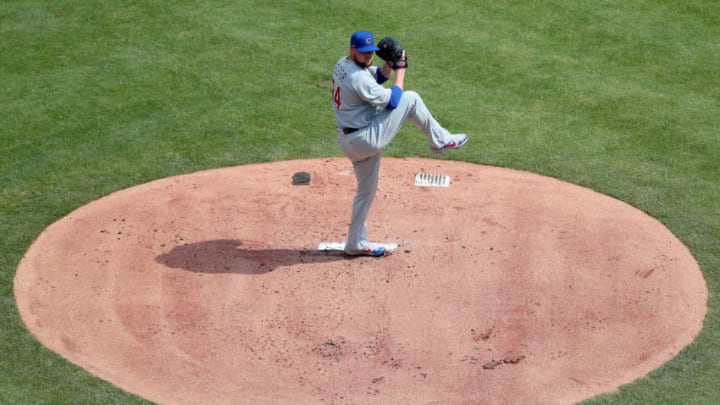 (Photo by Tom Pennington/Getty Images) /
The Chicago Cubs Jon Lester opened up the season as a winner and hopes that continues for his teammates. The Cubs have come out ready to play, ready to dispel these rumors of an 'under .500 team.'
The Chicago Cubs Jon Lester isn't a spring chicken anymore. He's been in this game for a while and doesn't rely on his 'stuff' to get guys out. There was a time that he did. But now, he knows how to pitch, and showed that in the Opening Day win in Texas. Lester set the tone not only for himself but hopefully, the rest of the ballclub with his effort. Lester doesn't need 15 strikeouts per game. An out is an out, and he wants as many as possible.
When Lester won the opener, it was just one win, with 161 left to play. But in this difficult division, every victory you can get when you play away from it is critical. Javier Baez started his campaign with two home runs, and Kris Bryant just missed a two home run day, thanks to the wind. But the Cubs realize these interleague games are 'must wins', especially in this NL Central. Because when division play starts? Nothing is going to come easy.
Recently, we set out to identify some of the best single-season pitching performances in Chicago Cubs history. The way it worked out, Part I ended up being the 'old timers', with most of the guys being 20th-century pitchers. Part II is going to have more performances that the younger generation will be familiar with. Any fan that was old enough will never forget Jake Arrieta's amazing 2015 season. But we've got a few more that aren't that far behind–and some of those didn't come on great teams.
Cubs on Twitter
These and other stories you might have missed:
'Cubs Lester sets the tone for the 2019 season' – Cubbies Crib
'Cubs ready to charge into the opening week' – Cubbies Crib
'Best single-season pitching performances, Part II' – Cubbies Crib
'Cubs best performers in Spring Training' – Cubbies Crib
'Padres unveil Anchorman race, and it's AMAZING' – MLB.com
Be sure to check back later today for more Cubs news and analysis! And follow us on our Twitter @CubbiesCrib, like our Facebook page for more Cubs conversation! And be sure to check out our Climbing the Ivy Podcast each week as we cover even more Cubs baseball!