Chicago Cubs: Will an Anthony Rizzo extension be on the way?
The Chicago Cubs have a number of guys that they would ideally like to have for a long time. First baseman and unofficial captain Anthony Rizzo is one of them.
Seems like every day there is at least one big-name player getting an extension with their current team. This past week alone we have seen the likes of Mike Trout, Paul Goldschmidt, Alex Bregman and Chris Sale signing extensions with their respective clubs. The Chicago Cubs have not given any player such extensions yet. Kris Bryant and Javier Beaz have been the most talked about players in that category. What about Anthony Rizzo?
The three-time All-Star first baseman will be an unrestricted free agent in 2022 and is making just over $11 million this season. His final two years are club options both worth $14.5 million. Rizzo mentioned wanting to be a Cub for life, potentially hinting he would take a hometown discount on a new deal, so could this mean he will or at least should be getting an extension?
The situations with Rizzo and others like Bryant are bit different, so it is hard to compare the two. Considering Bryant's agent is Scott Boras, his younger age, upbringing to the majors (service time) and overall value, it would seem more likely Rizzo would be the one getting an extension sooner or later. Time will actually tell if that is true or not but right now a Bryant extension does not seem imminent.
Factors to consider
One may wonder if Rizzo's age will play a factor in a potential extension. He is going to be 32 in 2022 and while he has overall stayed on the field, he has had some nagging back issues. There is also the simple question of how much and how long would he want and could the Cubs pay him and others.
A potential deal for him would not be anything like Trout's with the Angels by any means. Goldschmidt just got a five-year, $130-million extension with St. Louis, which could be much closer to what a potential Rizzo deal would look like. A five-year extension of around $100 million would make a lot of sense for Rizzo. That makes him roughly $20 million a year depending on the exact numbers. Figure he has several prime years left in him if his back holds up and his value would just be under Goldschmidt's.
Could they have not done it yet because they are not worried about Rizzo walking in free agency? Maybe, and it is not like he is going to be a free agent next year, but right now there is a new trend in baseball and he seems like the guy who absolutely wants to remain a Cub. Even if it does not happen this year, it will be something they likely work on during his club option years.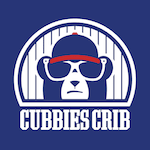 He has been the face of the franchise since Theo Epstein took over and he deserves to be locked up for the next half-decade. If he plays in Chicago through his mid-30s, then the Cubs will at least have gotten his best years as a major league player.