Chicago Cubs: Cubs YouTube, Jose Quintana and more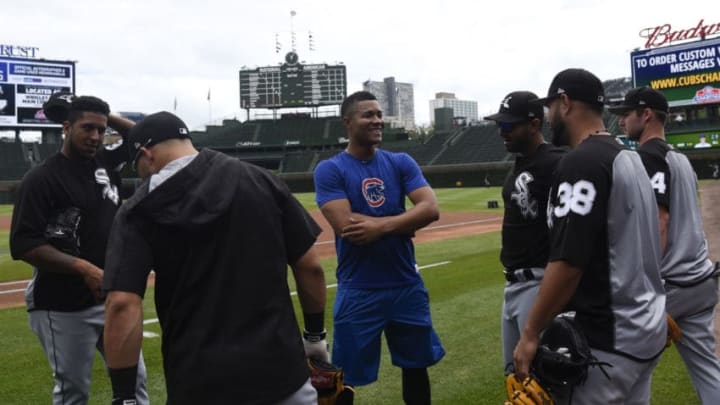 (Photo by David Banks/Getty Images) /
The Chicago Cubs have been dabbling in the world of social media more often–and with some success. Now they take on another venture.
On Monday, the Chicago Cubs will have their own channel. Well, sort of. The Cubs are delving into the world of YouTube, looking to capitalize on the chance to get the Cubs in front of everyone on the planet. The Cubs Twitter has already been successful, and the Instagram page offers even more video opportunities. Now, starting a YouTube channel could give the team limitless opportunities. Maybe a Kyle Schwarber cooking show? An etiquette class with Jon Lester? Hmmm.
Jose Quintana came into camp on a mission. He had some changes in mind and hoped they would help him get back to the potential that he's shown in the past. One of the simplest adjustments was throwing more changeups. It's a small sample, but he's been doing it–and it's working. We aren't going to jump on the 'Q-train"; we already did that last year with Ian Happ. But what we're seeing is very encouraging.
Before baseball teams head to Florida and Arizona for the spring, another sport rules the landscape. Golf. The Cubs may be looking to capitalize on that by hosting a pro-am with the Champions Tour. So no Tiger Woods, not yet at least. He's closer than you think. Think Paul Azinger, Fred Couples, Lee Trevino and others playing with the likes of Ian Happ and Jon Lester (Both outstanding golfers.) It might not happen next year, but it shouldn't be all that far off.
Cubs on Twitter
These and other stories you might have missed:
'Cubs to launch a YouTube channel on Monday' – Cubbies Crib
'Quintana seeing solid results early this spring' – Cubbies Crib
'Cubs could have a pro-am event in the works' – Cubbies Crib
'Russell playing well early on in spring' – Cubbies Crib
'Will Edwards finally prove his worth?' – Cubbies Crib
Be sure to check back later today for more Cubs news and analysis! And follow us on our Twitter @CubbiesCrib, like our Facebook page for more Cubs conversation! And be sure to check out our Climbing the Ivy Podcast each week as we cover even more Cubs baseball!