Chicago Cubs: Riggs Stephenson is a forgotten star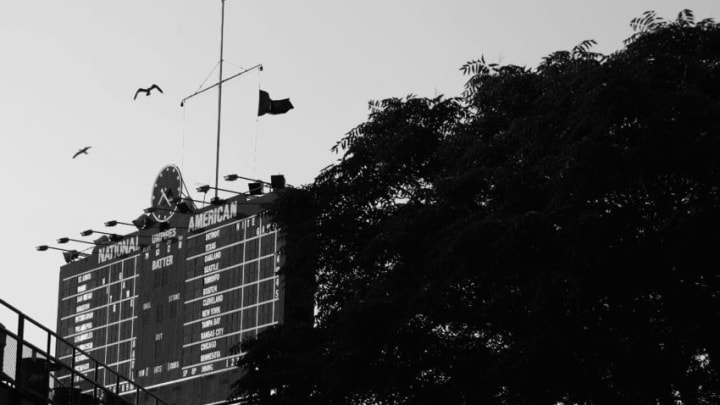 Wrigley Field / Chicago Cubs (Photo by Scott Halleran/Getty Images) /
Here at Cubbies Crib, we enjoy looking back on players careers and what they have done for Chicago. It's what the Heroes of Wrigley series is all about.
Names like Rick Sutcliffe, Ernie Banks, and Mordecai Brown all come to mind. That being said, Riggs Stephenson is one name who has been lost in the shuffle.
For the period between 1926 and 1934, it was a great time to be a Chicago Cubs fan. Two World Series appearances, winning seasons in all nine years; the list goes on and on. Unsung heroes seemingly stepped up to shoulder the load. One young man in the prime of his career was Stephenson.
Stephenson spent time at the University of Alabama, before ultimately joining the Cleveland Indians in 1921. Unfortunately for Stephenson, his defense was downright dreadful which forced the hand of manager Tris Speaker to decide on Stephenson's future. Speaker bet against Stephenson and after five seasons with the Indians, where Stephenson never surpassed the 100 games per year benchmark, shipped him off to Joe McCarthy's Cubs.
More from Cubbies Crib
For the record, Stephenson performed admirably for the Indians. At the end of his career with Cleveland, Stephenson had accumulated 332 games, slashing a career .337/.403/.485 with an 888 OPS. Stephenson made sure his Cubs career got off on the right foot and was that ever the case? In his first year with Chicago, Stephenson slashed .338/.404/.456 with a .859 OPS. It would be the first of many amazing seasons.
An underrated star on the Northside
Following that first year in Chicago, Stephenson had an even better year in his second season. Slashing .344/.415/.491 with seven home runs and 82 RBI, Stephenson finished 20th in the MVP voting and recorded what would go on to be a career-high in doubles, ending with 46 two-baggers.
Stephenson recorded 199 hits and eclipsed century mark with runs scored. Over the next three seasons, Stephenson would post a .343/.422/.508 line with an excellent .930 OPS. He recorded 200 walks while striking out only 78 times.
The 1929 season was an exceptional one for both Stephenson and the Cubs, as they finished 98-54, marching onward to the World Series, where they would, unfortunately, meet their match in Connie Mack's Philadelphia Athletics, losing the series four games to one.
Nevertheless, for Stephenson, it was a career year. Finishing the year by slashing .362/.445/.562, Stephenson hit a career-high number in home runs with 17 and posted an insane 1.006 OPS. All this while missing 20 games throughout the regular season. It would be the only time in history where an outfield battery, which also consisted of Kiki Cuyler and Hack Wilson, all each drove in 100 runs.
Spanning 1930-1933, Stephenson hardly slowed down his production. Over the three-season benchmark, Stephenson slashed .334/.399/.444 with a .839 OPS. The power, which was never great, dipped quite a bit. However, the aggressiveness on the base paths was still there as Stephenson did swipe five bags in his age-35 season, which is impressive considering the nature of his lack of stealing in his career.
The Cubs did make another World Series appearance in 1932, which would be the final time in Stephenson's career. This time, the club ran into the formidable New York Yankees, managed ironically by former Cubs skipper Joe McCarthy. McCarthy left following the 1930 season, as Rogers Hornsby took the reins, followed by Charlie Grimm for a short while. Disappointingly, Chicago was handed a four-game sweep.
Not a Hall of Famer?!
Surprisingly, it stands that Stephenson never received the highest honor Major League Baseball can bestow on its players. There are a few arguments against Stephenson as to why he never received the call.
Throughout his career, Stephenson was not a very good fielder. His rookie season spanned 463 innings at second base, where Stephenson made a whopping 17 errors in 292 chances. The following season, Stephenson made 11 errors and the two years after that he combined for 25 errors.
Stephenson had an amazing Indians career and an even better Cubs career. An unsung hero of sorts for a Cubs team who made baseball fun in the 1920s and 1930s. Had the career of Stephenson spanned a few more years, with more games, it probably would not have even been a discussion when the Hall of Fame talks came around. Despite it, however, Cubs fans can revel in the career of Stephenson and what he did for the 'Windy City' of Chicago.