Chicago Cubs sitting idly by as the National League Central improves
I know, I know. It's a marathon, not a sprint. But the Chicago Cubs are yet to do anything of note while the rest of the NL Central is taking leaps forward.
Yes, it's not even mid-December. I mean, the Winter Meetings aren't even wrapped up yet and, already, we're all ready to jump off a cliff. The Chicago Cubs are yet to make a single notable move, aside from maybe picking up Cole Hamels' option for 2019 or tendering Addison Russell a non-guaranteed contract.
But while Theo Epstein and Jed Hoyer mull over mediocre arms that may or may not provide any value to a team that failed to advance deep into October for the first time since 2014, the rest of the league is out there making moves.
Let's start with the big addition – and, likely, the one that will give us all nightmares come next spring: the St. Louis Cardinals' acquisition of former Arizona Diamondbacks slugger Paul Goldschmidt.
Not only does he add a badly needed impact bat (and one that gives Marcell Ozuna protection he sorely lacked last season) but he's a Gold Glove-caliber defender and immediately improves the St. Louis infield. And, to be clear, we're not talking about baby steps here. Goldschmidt ranked tied for fourth in defensive runs saved among NL first baseman last season (and second in 2017, fifth in 2016).
Last season, he finished sixth in National League MVP voting on the heels of a 33-homer, 84 RBI campaign in which he put up a .922 OPS in 158 ballgames. Adding that bat to the likes of Ozuna, Yadier Molina and Paul DeJong makes the Cardinals a very real threat.
The days where you headed into the season thinking the Cubs had the Central wrapped up with a bow on top, at short as they were, are over. The Milwaukee Brewers are yet to make a move, but will likely add an Ian Kinsler or Daniel Murphy-like presence before the winter comes to a close. With Lorenzo Cain and 2018 NL MVP Christian Yelich in tow long-term, this club is the real deal.
And now, we're getting whiffs of reports that even the Cincinnati Reds – yes, the Cincinnati Reds – are ready to be big players this winter, too.
Wonderful. No, really, great. Fan-freaking-tastic. Meanwhile, to-date, all we've heard from the brain trust in Chicago is that they believe in the guys on the roster and they don't have any money. Please, please – be posturing for the greatest con job ever, Theo. Do me that solid.
Back to the Reds here for a moment. People drastically underestimate the potential of this young core. Cincinnati ranked eighth in the National League in runs, coming in just below the division champion Brewers. As a team, they batted .254 – a mere four points behind the league-leading Cubs. Bet you didn't realize that.
So what happened? A brutally horrendous pitching staff, anchored by the 16-loss Homer Bailey (talk about a contract that went bad in a hurry). The Reds put up the second-worst staff ERA in the National League, better only than the lowly Miami Marlins. The rotation made the fewest quality starts in the Senior Circuit, making it pretty clear what they needed to do to get better this winter.
Add pitching.
And add pitching they have, in the form of Illinois native Tanner Roark. Cincinnati acquired the right-hander from Washington on Wednesday in exchange for a minor leaguer. Roark, 32, pitched at least 180 innings in each of the last three years for the Nationals and is an immediate boost to that staff.
Throw in reports the team is looking at potentially acquiring Yasiel Puig and Alex Wood in a deal with the Dodgers and are interested in J.T. Realmuto and all of the sudden, you don't feel so warm and fuzzy seeing the Reds come to town next year.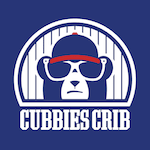 So let's just sit back, try not to freak out and come to terms with a startling truth. The Cubs' stranglehold on the division is over. If you didn't believe it after Game 163, believe it now. That's not to say the team won't win the Central – because they very well could. But it won't be the smooth sailing we saw in 2016 again anytime soon.