Chicago Cubs Rumors: Is Andrew McCutchen a potential Cubs target?
If the Chicago Cubs didn't sign Bryce Harper or Manny Machado but instead opted for Andrew McCutchen this offseason, how would you feel about it?
It has been crazy how many different rumors and predictions have surfaced the past week or so in terms of what the Chicago Cubs will do this offseason. How much will they spend in free agency? Are Bryce Harper and Manny Machado truly in consideration? Only time will tell, but there are other interesting free agent names out there as well.
One name brought up being linked to the Cubs by MLBTR in their 2018-2019 free agent predictions? Veteran outfielder Andrew McCutchen. The former National League MVP and five-time All-Star now hit the market as an unrestricted free agent at the end of his six-year deal. Pittsburgh traded him to the Giants last winter before winding up with the Yankees ahead of the non-waiver trade deadline in July.
McCutchen is an interesting thought. He is 32 and has not exactly been the guy he was from 2011-2015 who went to All-Star Games, won Gold Gloves and even won an MVP in 2013/ That being said, he is still a very solid ballplayer. MLBTR has him going to the Cubs on a three-year, $45 million deal. Is that reasonable?
McCutchen's current value
$45 million may seem like a lot, but considering what a lot of guys have gotten recently (and what some are projected to get), it would be decently cheaper now than if he were coming off his MVP season. Remember, this number is just a prediction MLBTR made and it does not mean that is exactly what he will get, but it can give people of an idea of what his current market value is.
In terms of his performance last year between the Giants and Yankees, he slashed .255/.368/.424 with 20 home runs and was a 2.6 fWAR player. His cumulative slash from 2016 to 2018 is .263/.356/.446 in 464 games, while averaging 24 home runs a year and 2.5 fWAR. So his 2018 season is pretty consistent with the type of player he has been the past three years. Overall productive numbers.
Yes, his value was in his mid-20s was significantly higher. From 2011 to 2015, he slashed .302/.396/.509 in 775 games. Four of those five years he had an OBP of .400 and above and averaged a 6.9 fWAR in those five years. He was an 8.1 fWAR player in his 2013 MVP season.
While still a good player, it does not seem likely he will put up numbers quite like that again, but there is plenty of solid production left in the tank.
Could he fit well with the Cubs?
McCutchen could be an interesting look for the Cubs if they want to add an established veteran outfielder, especially if they do indeed deal guys like Albert Almora, Ian Happ or Kyle Schwarber. It would seem inevitable that they would make some sort of move involving one or some of those guys if they were to add a McCutchen.
You pretty much know that even if he is not the MVP-caliber player he once was, he will at least give you very solid production. A big question would be is his current and projected value better than members of the young core that could potentially be traded or will lose time? Bringing him in is not really bringing in depth, it is bringing in a guy who will play every day.
It's also worth noting that he has a .310/.416/.901 slash in 77 games at Wrigley Field in his career.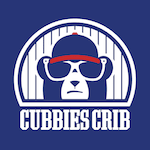 McCutchen can play center or right field which is a nice little thing to have. His defense has not been very good in a while, but he can be serviceable. Overall a move to get him would not be a major move like it was, but it could potentially be a very solid add.