Chicago Cubs: Do you with with David Bote or Tommy La Stella in October?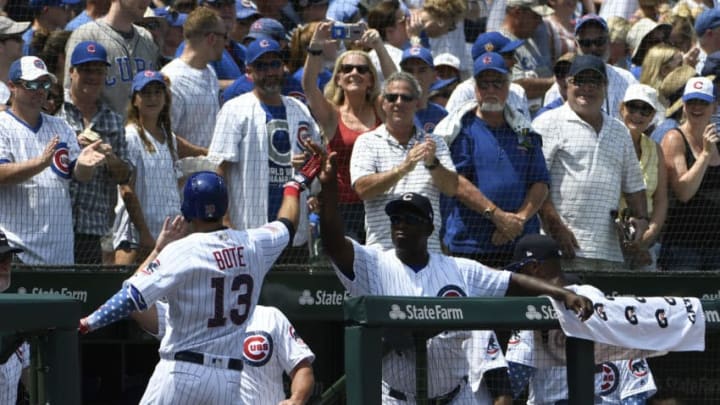 (Photo by David Banks/Getty Images) /
While projecting the 25-man Chicago Cubs postseason roster, most spots seem pretty obvious outside a few bench spots. Right now the two guys that are likely competing for a spot on the roster are David Bote and Tommy La Stella.
The 2018 MLB postseason is less than a month away, and while the Chicago Cubs have not clinched anything yet, things are looking likely they will be playing in October. If indeed they win the NL Central, they will go right to the NLDS where they will put together a 25-man roster for the series.
There are a few ways Joe Maddon can put together a playoff roster, biggest question will be if they carry seven or eight relievers with their four starters. That will determine how many position players they carry. Whether they carry 13 or 14 position players, there will be questions on who will be on the bench. If Terrance Gore makes the roster as a pinch-runner, then expect a tough decision between David Bote or Tommy La Stella making it.
Which one of them should make it? It could be an interesting decision for Maddon and there are arguments for either or. Obviously (unless there is a key injury) this decision will not effect who will be in the starting lineups, but it effects pinch-hitting or late-inning substitutions.
More from Chicago Cubs News
Argument for David Bote.
This guy has come up with some huge hits in his short time as a Cub, including several walk-off or game-tying home runs. He is slashing .556/.636/1.111 as a pinch hitter and .444/.522/.944 as a substitute in any form (pinch-hit or coming in later in the game) going into Saturday's double header. Long story short, he has been terrific off the bench.
Even when he has started, his defense has been very good. His glove may not come into play as much in the postseason as a bench guy, but it is nice to have. Going into Saturday's game he has five defensive runs saved and a .988 fielding percentage at third base. He has also played a decent amount of second base and little at short and first. Versatility is a nice thing to have.
Bote may have been streaky since his hot start, but he still has proven he can still come up with hits off the bench and be plugged into places on the infield if needed. If he continues to do good things with the bat and the glove, that could win him a playoff spot due to his production.
Argument for Tommy La Stella.
While Bote has had bigger moments this season, La Stella has much more experienced. He is most known for his pinch-hitting success; .277/.392/.385 in his career and .313/.395/.418 this season. La Stella will give you some real good at bats and get on base most likely via walk or single, he does not slug, but he can get on.
Looking at Bote's PH stats, they look a lot better, but La Stella's are over a much larger sample size. 180 plate appearances over five years for La Stella against Bote's 11 this year. The fact that La Stella is slashing what he is as a PH over that time shows he is a proven, consistently good pinch hitter.
La Stella also has 11 postseason games under his belt, while Bote has obviously never played in the MLB postseason. Overall, you know more what you are getting with Tommy La Stella than David Bote. Even if Bote has made bigger plays with the bat and glove this season, he is still more of an unknown.