Chicago Cubs: Upon Kris Bryant's return, what happens to David Bote?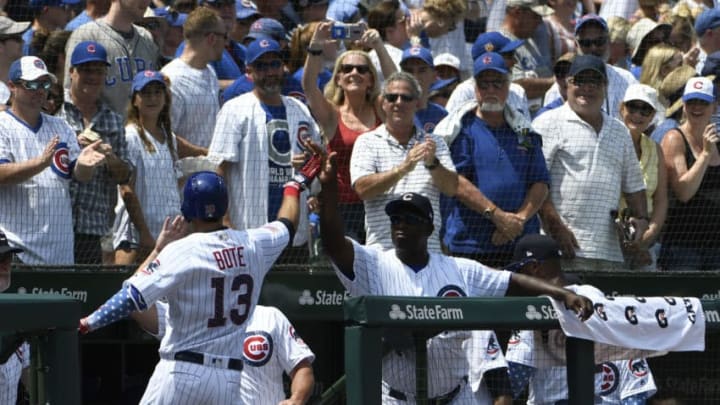 (Photo by David Banks/Getty Images) /
With Kris Bryant's injury making progress and his return possibly drawing closer, what happens to the playing time of Chicago Cubs rookie David Bote?
While Kris Bryant remains on the disabled list, he's been making progress and hoping to be back before the end of the 2018 campaign.
The Chicago Cubs are treating Bryant exactly how they should be, playing it smart and not rushing back the 2016 National League MVP. In short, they're making sure he's 100 percent before penciling him back in the starting lineup.  While Cubs fans, players, and management all miss seeing Bryant on the field, it's the best way to handle the situation as the club will need his bat down the stretch in the hopes of capturing a North Side championship for the second time in three seasons.
Bryant has been dealing with an injured shoulder which he originally suffered back in late May.  He aggravated it further by taking too many swings in the batting cages in efforts of busting out of a slump he was in from June 23 to July 10.
More from Cubbies Crib
Since then, he has been on and off the field as he reinjured the same shoulder on July 23 against the Arizona Diamondbacks. While there is no timetable for his return, things seen to be moving in the right direction.  He's back to taking dry swings and hitting off a tee, claiming he is now pain-free.
Even with one of their best players missing time, the Cubs remain, record-wise, the best team in the National League.  If you factor in a healthy Bryant, they become that much more frightening to opposing teams and a serious pennant contender.
There are several keys players that have attributed to a successful Cubs season despite being sans Bryant but one of the great storylines so far has come in the form of the emergence of David Bote.
Finding regular reps for the rookie
Here lies the only negative with Kris Bryant's return:  It would mean less playing time for the promising rookie.
Bote has been a vital player coming off the bench but has also shown a lot of success starting.  Whether it's coming off the bench or starting, he will inevitably see a drop in at-bats once Bryant makes his comeback.
However, I may have found a solution to this problem.  While Bryant is our third baseman for now and hopefully many seasons to come, perhaps Joe Maddon should occasionally start him in the outfield down the stretch so Bote can still get some reps at third.
This could prove unlikely, depending on Bryant's return date.  Typically, the best thing for a player returning from injury is to be eased into a familiar, consistent role.  That would mean Bryant staying at third base.  But, if Bryant's return is sooner than later and has ample time to play and dust the cobwebs of his game, it may be beneficial to occasionally insert him into the outfield in order to add Bote's clutch bat into the lineup at the same time.  This would give the lineup even more depth to an already deep squad.
Coming up consistently – and in the clutch
Bote has hit a consistent .290 thus far this season that includes two important home runs since the All-Star break.  He hit a game-tying two-run shot July 26 against the Arizona Diamondbacks and, of course, an exhilarating walk-off salami against the Washington Nationals on August 12.  The latter pretty much made us all remember the child-like excitement that professional baseball players still hold while playing and single-handly made us remember that that excitement is what the game is all about.
He has also shown that he sees the ball well against both lefties (.313) and righties (.279) while ranking third on the club in on-base percentage (.376).
Every game from a Joe Maddon-led club is different.  His method has drawn the ire from many critics, resulting in many eyebrows raises.  I myself, have been guilty of the occasional eyebrow furrow once in a while, I love the way he handles his players, positioning them all around the diamond, giving them all a chance to contribute.  While we'll have to wait to see how Bote is utilized after Bryant's return, I'm hopeful Maddon won't forget about Bote and find ways to insert him into the lineup on a frequent basis.