Chicago Cubs: Should the Cubs get another veteran catcher?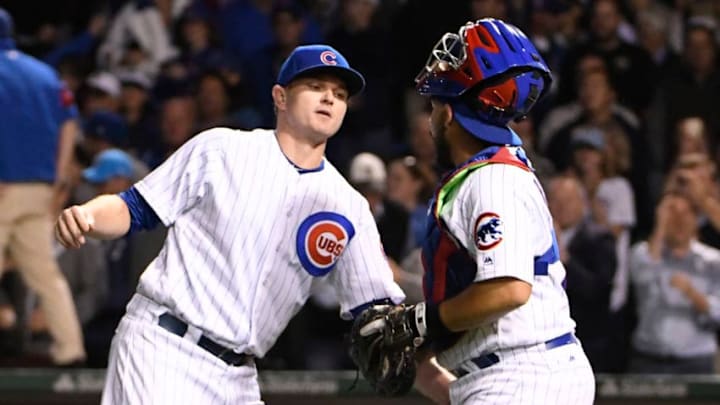 (Photo by David Banks/Getty Images) /
Heading into the final stretch of the season, the Chicago Cubs will be looking to add more to the roster, especially when it expands. Veteran catchers have proven to be very valuable to the team in these moments of a season.
This is the time of year when small veteran reinforcements are often added to contending teams. These additions can be anything from outfield depth to backup veteran catchers. Right now the Chicago Cubs have a catching tandem of Willson Contreras and Victory Caratini. The last few years they have had numerous veteran backups in David Ross, Alex Avila and Rene Rivera. It seems time to add another one of those types this year.
While Contreras has both regular and postseason experience the past few years, Caratini does not. Right now Caratini is struggling both offensively and defensively while trying to work with a veteran staff in a tight playoff race. While he may still have a bright future, right now is the time to have someone who has plenty of experience calling a game and has good defensive instincts behind the dish.
More from Cubbies Crib
Keep in mind, most often when acquiring a veteran catcher they are used for starting roughly every five days or coming in a game late as a defensive substitution. This is not necessarily a situation where they look to add another key offensive contributor. Most older veteran backups are not known for their bats.
Ideal candidates for this role
A situation like this does not include searching hard to suitors and shopping big pieces, backup catchers are incredibly cheap. A simple waiver claim or trade of cash could land you one. Most of these guys are on one or two year deals making three million or less.
There are a few notable options out there currently. Bringing up Rene Rivera again, he did a nice job last year in his role as third-string catcher down the stretch with the Cubs. He has worked with a majority of the pitchers on the staff and knows the team well. May be worth picking up from the Angels (assuming they'd be interested). Another interesting option could be A.J. Ellis (a guy having a good year offensively) who has 11 years of MLB experience, including 17 postseason games. Both are on one-year deals.
Those are just to name a few options, but the overall needs are pretty basic. Sometimes, fans do not see just how valuable a catcher with a lot of experience in different situations can do for a pitching staff, or just defensively. It is one thing to not make errors but another make smart plays behind the plate, frame well and call a good game with the pitcher.