Chicago Cubs: Early All-Star voting pretty spot-on as far as the Cubs go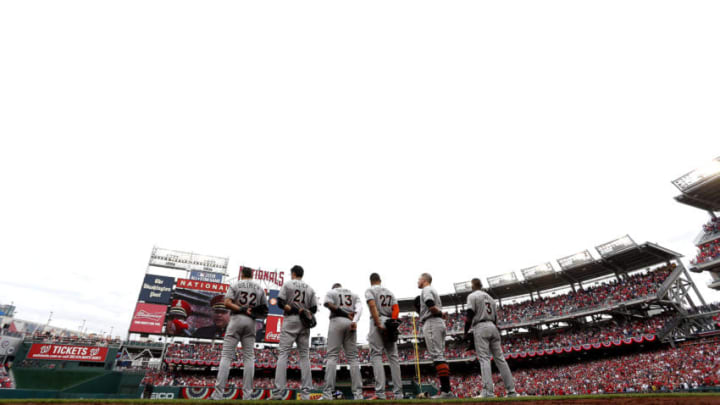 (Photo by Matt Hazlett/Getty Images) /
(Photo by David Banks/Getty Images) /
Chicago Cubs: Anthony Rizzo heating up, KB looking for his stroke
As for Rizzo, this isn't a Sherlock Holmes-type mystery. For the first month, the guy couldn't hit his weight. Now, over the last month or so, he's been the best hitter in a Cubs uniform – basically driving in a run per game. But you can't just erase those first 30 contests. Especially when the guy you're chasing could very well be the National League MVP.
More from Cubbies Crib
Freddie Freeman leads a Braves team no one expected to compete in 2018. Yet, here we are in mid-June and Atlanta is neck-and-neck with the Nats in the East. For his part, Freeman is leading the league with 85 hits, 14 doubles, a .998 OPS and 173 OPS+. Yeah, you might say he's pulling his weight.
A power outage for Bryant
Kris Bryant is a bit of an enigma. He's not having a bad year by any stretch of the imagination – despite what many believe. Year-over-year, his average is within 10 points of last season – and his on-base percentage consistently pushes .400. It's his slugging percentage and OPS that have really took a nosedive. Why? He's just not hitting for power.
More than a third of the way through the season, he has just eight long balls. He hasn't homered in a game since May 14 in Atlanta – nearly a month ago. Meanwhile Nolan Arenado is doing what he always does. Playing Gold Glove-caliber defense and absolutely mashing – with a .956 OPS and a dozen homers under his belt.
If Bryant flips the switch, then buckle up. But, for now, Arenado is playing all-around better baseball and is more deserving of an All-Star Game start.