Chicago Cubs: Jason Heyward stays hot with game-winning grand slam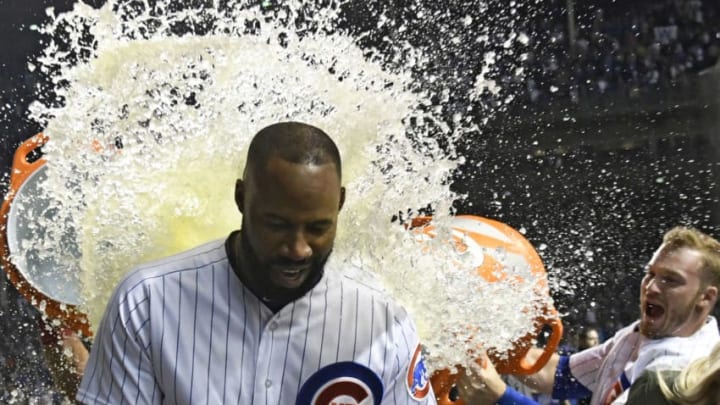 (Photo by David Banks/Getty Images) /
This one's for all the haters out there. Jason Heyward continued his recent hot streak, lifting the Chicago Cubs to a big win on Wednesday night.
If I were to sum up Jason Heyward's ninth-inning heroics Wednesday night in one word? Vindication.
For pretty much all of his two-plus years in Chicago, fans have chastised their $184 million right fielder. The lone exception being in the wake of the team's first World Series title in more than a century – in which he delivered the rallying speech during a Game 7 rain delay.
It's not hard to understand why fans have been so frustrating. We all thought we were getting one of the best all-around outfielders in the game. Instead, we got a superb defensive player whose swing took on more water than the Titanic.
More from Cubbies Crib
But I digress.
To this day, Heyward remains one of my favorite players. And the reason why is pretty simple. Sure, he's struggled a great deal with the bat in Chicago. But he's put in countless hours to right the ship and get things figured out – both during the season and in the winter. And I respect him more as a player and a person because of that.
And, at long last, it seems like all that effort is paying off.
Heating up in a big way
Since returning from the disabled list in mid-May, the Cubs outfielder carries a .321/.350/.482 line.  Compare that to the .243/.315/.353 he put up in his first two years in Chicago and you see why the excitement is back on the rise.
""Things do seem a little more clear," Heyward told The Athletic after the win. "But no, just trying to keep it — it's cliché, I'll keep saying — just trying to keep it simple. One at-bat, one pitch at a time. Try and make adjustments on the fly. It's much easier said than done. I got a pitch to hit there and I didn't miss it.""
I've been sitting on writing this piece for a couple weeks now. But Wednesday's game-winning grand slam was the cherry on top of the sundae for me. We're talking about a guy who nearly hit .300 in his final year with the Cardinals. In 2012, he blasted 27 home runs for Atlanta. And, although I don't expect him to ever be that kind of power bat again, I'm all about him driving the ball with authority.
This season, his 89.4 MPH average exit velocity ranks above league average. He's been far better away from Wrigley Field than at the Confines – but hopefully his game-winner generates some momentum for him at home.
Next: Almora, Happ have very different long-term roles in Chicago
After two disappointing offensive seasons to start his Cubs career, there's no one who wants to find success at the plate more than Heyward himself. And, if the last month or so is any indication, he may be drawing nearer to the vindication he so longingly seeks.