Chicago Cubs: Does Albert Almora Jr. deserve an All-Star game nod?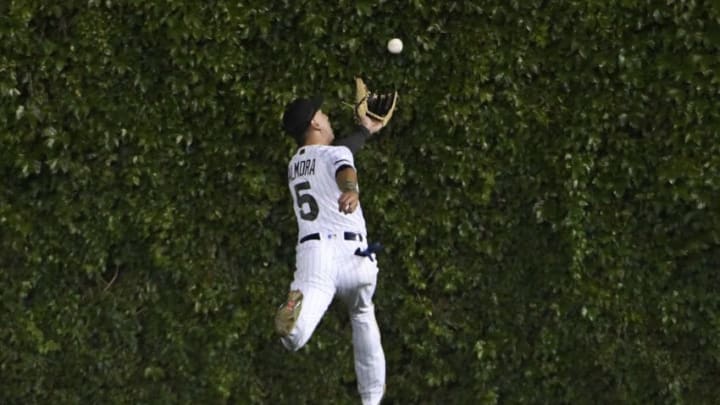 (Photo by David Banks/Getty Images) /
Fans are now able to vote for their 2018 All-Star Game selections. Last year, the Chicago Cubs sent only one player to the Midsummer Classic.
Obviously, infielder Javier Baez appears to be the "lock" for the Chicago Cubs. The Puerto Rican standout is having himself an amazing season, his best yet as a hitter since his defense has always been stellar.
El Mago is currently sitting with some of the leagues best young hitters, plating over 40 RBI. Among the handful of hitters at the top of the list are Mookie Betts, Manny Machado, Aaron Judge and Eugenio Suarez.
All four should end up representing their respective leagues on July 17 at Nationals Park in our Nation's Capital. So, with voting for participants in this year's showcase officially underway, what other Cub could end up in Washington?
More from Chicago Cubs News
When evaluating this roster, several names come to mind. Kris Bryant is expected to receive votes alongside first baseman, Anthony Rizzo. Rizzo is the only Cub on this roster who has more than one All-Star appearance for Chicago.
His first nod came as a designated hitter in 2015 and was one of seven Cubs chosen in 2016. That same game, Bryant launched a home run off Chris Sale in the first inning of play.
And for those of you who have been smashing the panic button during the first couple of months, they went on to win the World Series that year. It feels like just yesterday.
 A star in the making
When former leadoff man Dexter Fowler chose to sign with the St. Louis Cardinals, a door opened for Albert Almora Jr. A young man who, like many of his teammates, made his World Series debut at a very young age.
Following a Kyle Schwarber base-hit to begin Chicago's historic late-inning rally, Almora displayed some veteran-like baserunning. Little did we know, a rookie pinch-runner would put this club in position to finally end a curse.
Now, he has emerged as one of the leagues brightest outfielders and clutch hitters for the Chicago Cubs. Almora has left fans in awe during the early half of the regular season, showcasing a defensive clinic which will surely earn him some hardware over the course of his career.
Hopefully, as a member of the Cubs.
It may be a stretch
One thing we know for sure is that baseball fans appreciate hustle. A key trait that Almora has shown whenever he steps foot on that diamond. Aside from his defensive presence, Albert currently holds the highest batting average (.323) for a National League center fielder.
He is just ahead of Odubel Herrera (.312) and Christian Yelich (.304) but trails both men in home runs (2) and RBI (13). So maybe, by some miracle, if Almora continues to either increase or maintain that average while knocking in more runs, he could end up in Washington with Baez.
Next: Schwarber showing no signs of slowing
Saturday, he's batting seventh as the Cubs aim to claim the series from the New York Mets. Let it be known that he will represent Chicago in the All-Star game several times in his career.