Chicago Cubs not willing to get into a "ticket war" with the Brewers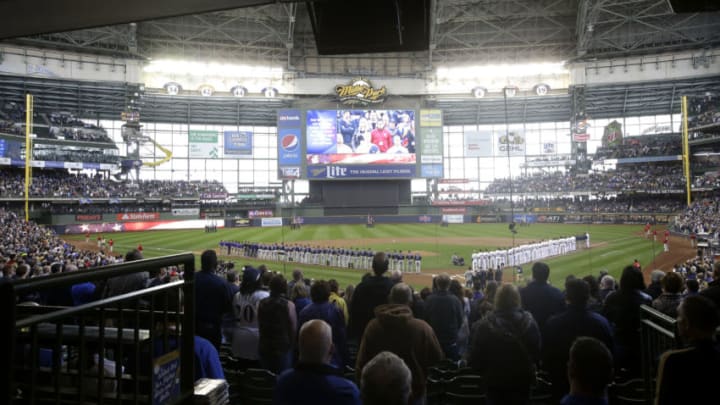 MILWAUKEE, WI - APRIL 06: General view as the Colorado Rockies and the Milwaukee Brewers stand for the playing of the National anthem before start of Opening Day at Miller Park on April 06, 2015 in Milwaukee, Wisconsin. (Photo by Mike McGinnis/Getty Images) /
The Chicago Cubs made it pretty clear, they have no desire to get into a "ticket war" with the Milwaukee Brewers. But the fact remains, they're only hurting themselves.
When the Chicago Cubs and Milwaukee Brewers put tickets for their games on presale, there's a different tone to each one. The Cubs? Come one, come all. Brewers' fans included. The Brewers, however, took a different line. Their sale included Wisconsin residents only. When your stadium is filled with 40,000 people, do you care who they're cheering for? The Brewers do.
Last season, the Brewers averaged more than 40,000 per game in their home contests with the Cubs. That's more than 9,000 more than their regular attendance for games. But with a crowd that seemed to be more than half Cubs' fans, the Brewers are trying to put a stop to it. So they came up with this idea.
I can't blame them
First, it's not a terrible idea. It gives your fans first dibs on the tickets. And the only way to get more people (your fans) into the game is to let them have the first crack at it. But there's a lot of issues with this, none of which upset the Cubs.
More from Cubbies Crib
""Look, I won't speak to any polices or promotions the Brewers are doing," he said. "Our focus is to get as many tickets in the hands of Cubs fans and baseball fans as possible. As an organization, we don't have any feelings one way or the other in terms of who they'd like to invite or disinvite from their ballpark. – Julian Green, Cubs' spokesman"
Disloyal fans are out there
Fans aren't always loyal. I don't say that negatively. But if the Brewers are falling behind the Cubs early on, you don't think a Brewers' fan would sell the tickets at top dollar to a Cubs' fan?
Now, chances are that won't be the case as the Crew seems set up for another good season. They still need pitching, but that's another story.
The other point is that why would they want to keep fans out of their stadium? If they're competitive, this likely won't become an issue. But why push out 10,000 people who are Cubs fans? I remember Thom Brenneman once saying "their money is the same as anyone else's." He accepted that the Cubs were all over Cincinnati, so why aren't the Brewers?
Next: Thinking back to the Ohtani deal
It's a silly game the Brewers are playing that isn't going to bother the Cubs, at all. If they want their fans at the game and to outnumber the Cubs fans, more power to them. But the Cubs travel well, and it's going to be hard to keep us out of Miller Park. Either way, it should be a great series between the two teams.