Chicago Cubs could be the answer in Tampa Bay's trade hopes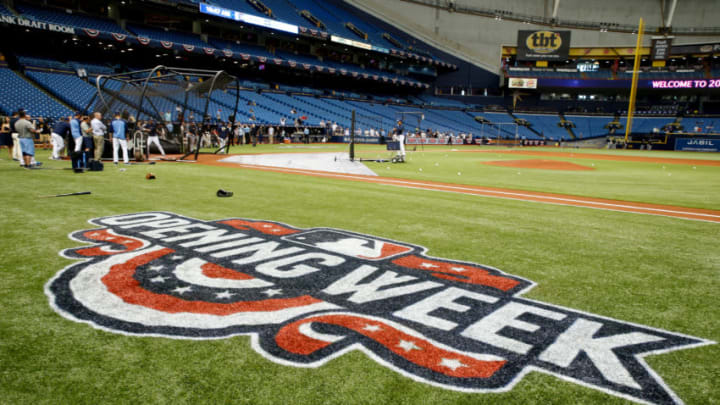 ST. PETERSBURG, FL - APRIL 2: The Opening Week logo adorns the field prior to the start of the Opening Day game between the Tampa Bay Rays and the New York Yankees on April 2, 2017 at Tropicana Field in St. Petersburg, Florida. (Photo by Brian Blanco/Getty Images) /
Yet again, the Tampa Bay Rays are reportedly eyeing a rebuild. And, per usual, the Chicago Cubs seem like a logical fit in several potential trades.
The hot stove can hardly be called even lukewarm at this point. And not just regarding the Chicago Cubs, either. The lone move so far this offseason came over the weekend when the Texas Rangers signed big right-hander Doug Foster to a one-year deal.
No Giancarlo Stanton trade. Shohei Ohtani will be decided in the month or so to come. And, at least as of right now, no one seems sure what the Cubs will do – or how they'll address the needs on their roster heading into 2018.
Trade seems to be a likely option when figuring how Theo Epstein will get a roster in-place for next year.
Chicago boasts an impressive, young big league core – that also features long-term control. Guys like Ian Happ, Kyle Schwarber, Javier Baez and Addison Russell have all seen their names floated early this offseason. Whether or not any of them will play elsewhere next season remains to be seen.
But for a team like the Tampa Bay Rays, these guys might be the perfect fit. Tampa is handicapped in terms of payroll so finding young, cost-controlled talent is the only chance they have to compete in a battle-tested American League East.
More from Cubbies Crib
A couple weeks back, Ken Rosenthal opined the Rays should go for a full rebuild this winter. What type of names could this entail? If we're being honest, a lot of enviable ones: Alex Colome, Kevin Kiermaier, Corey Dickerson, Jake Odorizzi and Brad Miller. If they go full-bore, all-in, even Evan Longoria could be on the move.
Finding fits for the Cubs
The Chicago Cubs don't really need a guy like Brad Miller. The roster already features the likes of Russell, Baez, Happ, Zobrist and Tommy La Stella. Granted, if the Cubs trade one of these names, things will change. At the end of the day, Chicago needs pitching.
That narrows this lengthy list down to the likes of Chris Archer, Jake Odorizzi and Alex Colome.
Now, it's not just that Chicago needs pitching help that makes this a logical trade pairing. Longtime Rays pitching coach Jim Hickey reunited with former Rays manager Joe Maddon at season's end, lending some familiarity with a guy like Archer.
Archer could slot into the Cubs' rotation, immediately filling the void left by Jake Arrieta. Colome, coming off a 47-save 2017 campaign, could answer the ninth-inning question. Either carries a significant asking price.
You're looking at losing not just someone like Ian Happ, but a package centered around him if you want to talk Archer. Colome, likely a similar situation. Don't go into these discussions expecting a one-for-one, straight-up type deal. It will not happen.
It makes a whole lot of sense
Tampa is always looking for controllable young players. Someone like Javier Baez could be ideal for a franchise like the Rays. He's passionate and could capture the Floridian Hispanic fans' hearts big-time.
Next: Cubs don't need Arrieta or Darvish to contend in 2018
The Cubs need to fill the void left by Arrieta and Wade Davis. The duo left a tremendous hole in their wake as they hit free agency. Tampa Bay might be the team's best shot at finding those answers.