Chicago Cubs relocating, widening dugouts at Wrigley Field this winter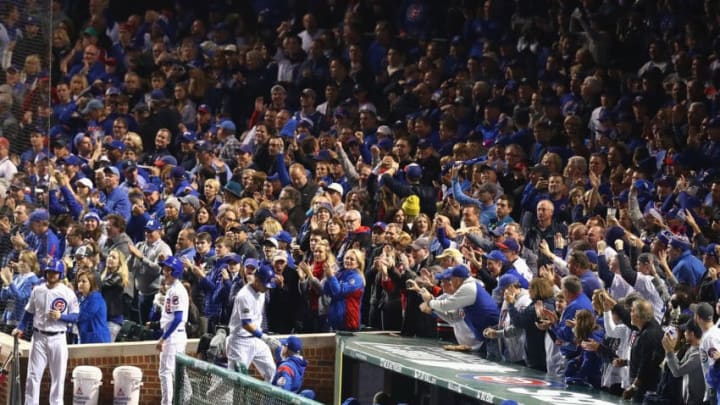 CHICAGO, IL - OCTOBER 22: Willson Contreras #40 of the Chicago Cubs celebrates with manager Joe Maddon at the dugout after hitting a solo home run in the fourth inning against the Los Angeles Dodgers during game six of the National League Championship Series at Wrigley Field on October 22, 2016 in Chicago, Illinois. (Photo by Dylan Buell/Getty Images) /
As the 1060 Project continues, the Chicago Cubs will work on some lesser-noticed pieces, but will also move and widen the dugouts at Wrigley Field.
As the Chicago Cubs went from Lovable Losers to World Series champions, Wrigley Field went from a run-down, antiquated ballpark to a top destination in baseball. Renovated bleachers, video boards and the Plaza at Wrigley Field headlined the first few years of work.
Now, the focus shifts yet again.
Perhaps the most notable changes at the Friendly Confines will be the dugouts down each base line. According to the Chicago Tribune, the dugouts will be roughly 15 to 30 feet further down the line ahead of Opening Day 2018. Large sections of the concourse on both sides is already removed. That, of course, relates to the construction of several exclusive club areas that will be located under the concourse.
Most of the remaining work this offseason focuses on structural improvements. 2019 seems to be the year where notable changes will again take center stage. These include several of the aforementioned luxury clubs and expanded concession areas.
Changed for the better
More from Cubbies Crib
Since the 1060 Project began, Wrigley Field has changed – in my mind, for the better. The concourse is already drastically improved. I went to Opening Day 2015 – where the bathrooms failed and people were urinating off the concourse. Port-a-potties were aplenty and the jokes and jibes wrote themselves.
That same day, the bleachers themselves were unfinished. Beyond the outfield walls, images of yesteryear looked on as the Cubs fell to the Cardinals in the debut of Jon Lester and Joe Maddon. But in the months and years that have passed since then, Wrigley Field has changed for the better.
Classic Wrigley remains present
The video board implementation has been near-flawless. Fans can now get a closer look at great plays and those under review. Most notably, the organization stayed away from tacky usage of the boards (Kiss Cam, etc). Outside Wrigley, though, is unrecognizable from years' past.
The Plaza at Wrigley compliments the ballpark perfectly. It houses the World Series trophy and the Team Store. Add in the eateries and the exterior video board and it's easy to see why fans flock to the grassy area even on non-game days.
Next: Which Cubs players are likeliest to be dealt this winter?
Unless you're willing to shell out around $500 a pop, you're not going to experience these new luxury areas. But fans across the ballpark will recognize the changed dugout locations – and, hopefully, a continued improvement in the quality of the viewing experience at Wrigley Field.