Chicago Cubs: The playoffs are bad for your health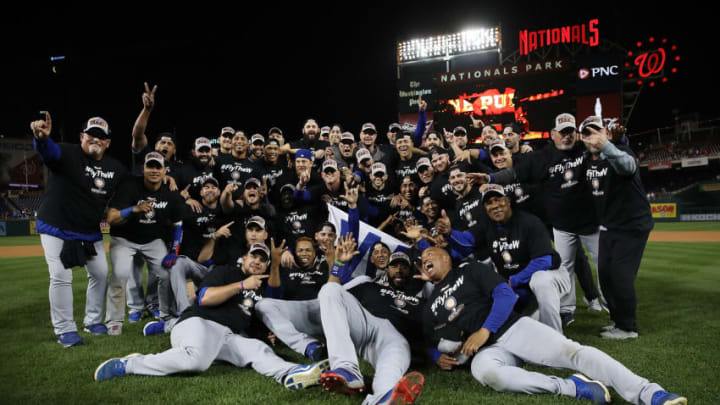 WASHINGTON, DC - OCTOBER 13: The Chicago Cubs celebrate during a team photo after the final out of Game 5 of the National League Divisional Series at Nationals Park on October 13, 2017 in Washington, DC. The Cubs won the game 9-8 and will advance to the National League Championship Series against the Los Angeles Dodgers. (Photo by Win McNamee/Getty Images) /
 In the past calendar year, the Chicago Cubs have played two of the greatest playoff games in recent memory. Game 7 of the 2016 World Series, which the Cubs won, in case you forgot, and on Thursday night. Game 5 of the National League Division Series against the Washington Nationals.
The Chicago Cubs won 9-8 in a back-and-forth affair that featured multiple heart attacks and heart palpitations. Imagine how Washington Nationals' fans feel right now. They just cannot get over the hump, while, for the Cubs, it's all just kind of…" we got this, no worries." Fans say this, and then their heart jumps at the sound of any batted ball. All of the pacing back and forth, the heavy breathing, and the jumps for joy, all make up for exciting playoff baseball.
More from Chicago Cubs News
The pure emotion of the playoffs keeps you on the edge of your seat, and it's bad for your health, but guess what? The playoffs don't care. October loves sucking the life out of us, and we keep coming back for more, just as they will this week for the 4-7 games against the Dodgers in what should be exhilarating NLCS rematch from last season.
Just like prior playoff series, October tends to rip our hearts right out of our chests and tie our stomach in knots. Like the Indians, for example, Nationals, and Red Sox, etc. The weird thing is that baseball fans will keep coming back for more because it's the best of the best playing each other.
Next: Hendricks postseason starts in review
The World Series has to be the worst of it all, though. If your team wins, like the Cubs did last year, that high will remain forever. Likewise, the Indians, blowing a 3-1 lead at home and dealing with all of the jokes are going to last forever, along with the sting of falling just short. These playoffs have been no different. Constant, edge of your seat action, followed by heartbreak for certain teams. And, you know what? The remaining series' will be no different. Fans will keep coming back for more, while October continually rips your heart out because the playoffs have no care for your personal feelings.