Chicago Cubs, Washington Nationals to try again on Wednesday afternoon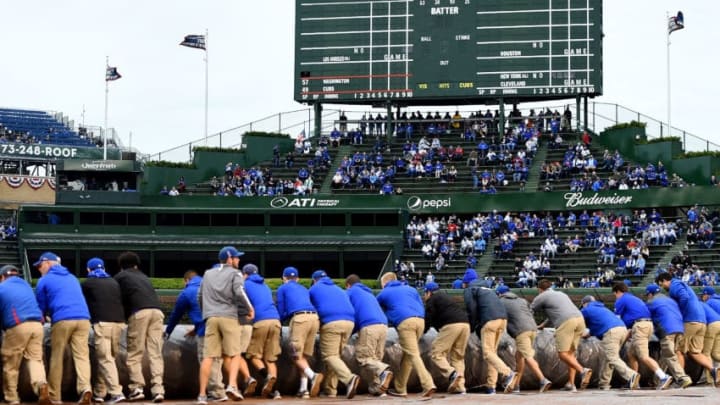 CHICAGO, IL - OCTOBER 10: Members of the grounds crew cover the infield with a tarp before game four of the National League Division Series between the Washington Nationals and the Chicago Cubs at Wrigley Field on October 10, 2017 in Chicago, Illinois. (Photo by Stacy Revere/Getty Images) /
Due to inclement weather, the Chicago Cubs and Washington Nationals will not play Game 4 Tuesday evening – instead they will battle on Wednesday afternoon.
As most of us in Chicago anticipated, Game 4 of the National League Division Series between the Chicago Cubs and Washington Nationals will not take place on Tuesday evening at Wrigley Field.
But the advantage we all thought the Nationals gained in a postponement is apparently nonexistent.
Had the game been played as expected on Tuesday, the Nationals were to tap right-hander Tanner Roark. With the rainout, everyone (except Dusty Baker) believed Stephen Strasburg would take the ball on regular rest Wednesday. This skips Roark, who is a solid arm, but is not the same caliber as his rotation mate.
But, then Dusty went full blown Dusty.
So let's start with the hotel/air quality issues. I get it. It's damp and the air has a definite chill to it if you're anywhere near Chicagoland.  That can absolutely cause people to feel under the weather. Not arguing that in any way, shape or form. (Also, Washington switched hotels on Tuesday night).
But that's not what cost Strasburg the potential Game 4 start.
More from Cubbies Crib
Dusty gonna Dusty
Pretty much from the time the sun came up on Tuesday, barring a major meteorological shift, it was clear this game wasn't likely to take place. With that in mind, Baker had Strasburg throw a bullpen session. This all but guarantees he couldn't take the ball should the game get postponed till Wednesday.
If the Cubs finish off the Nationals in Game 4, Dusty Baker will likely be scanning the Washington Post classified ads – because his job should be as good as gone. This decision, upon which the franchise's hopes of advancing past the first round for the first time sit, is a fireable offense.
That's not to take anything away from Roark. But he's yet to prove he's on the same level as someone like Stephen Strasburg. The one advantage that appeared from Mother Nature's temperament was promptly cast aside by the poor planning of the Washington Nationals.
UPDATE: Reports after the initial news broke regarding the Nationals' decision contradicting them – who knows if it's a matter of saving face or based in fact. USA Today, in particular says that Strasburg went on a run Tuesday afternoon and was wheezing, saying he couldn't start Game 4. Oh, and that the bullpen was on Monday. I'm speechless at this point, folks.
But, based on comments from none other than Baker himself, this doesn't make any sense.
""He had a bullpen today, which wouldn't have allowed him to — because we had planned on playing his bullpen early," Baker said. "So you know, it's fine. We have full confidence in Tanner.""
Next: It's time to give Rizzo the recognition he deserves
We'll do it again tomorrow
So, instead of Strasburg battling against a healthy Jake Arrieta with the Nationals' season on the line Wednesday, it'll be the Illinois native Tanner Roark. The right-hander has never won a postseason start – losing one in both 2014 and 2016.
One thing is for sure. This has been a strange, strange afternoon at the Confines. Stay tuned.