Chicago Cubs not to blame for strikeout numbers tonight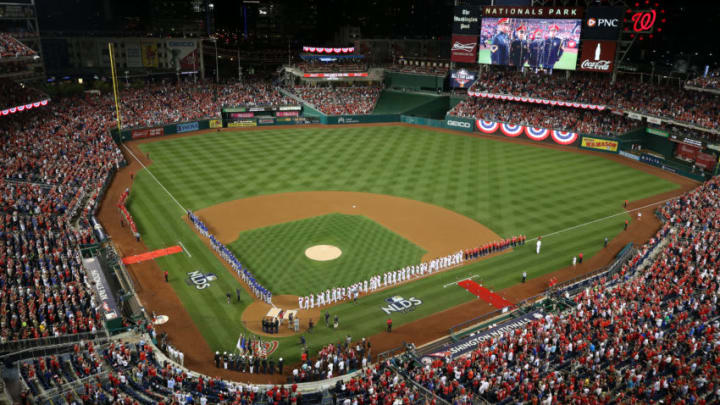 WASHINGTON, DC - OCTOBER 06: The Chicago Cubs and Washington Nationals stand during the national anthem prior to game one of the National League Division Series at Nationals Park on October 6, 2017 in Washington, DC. (Photo by Dan Kubus/Getty Images) /
The Chicago Cubs can't seem to make contact with any Stephen Strasburg pitches, but it's not entirely their fault. Strasburg might be finally reaching his potential.
The Chicago Cubs have been no-hit through the first five innings. It's easy to say that they're lost. That they look like the team they did in the first half of the season. But they weren't always facing a guy like Stephen Strasburg. We've talked about his potential for several years. Unfortunately, he's put it all on display tonight against the Cubs.
Most of us thought that we'd have a Game 1 pitchers duel of Jake Arrieta and Max Scherzer. Hamstring injuries to each have set them both back to at least Game 3 of the series. So far,  Strasburg has struck out eight over the course of the first five innings. And although Kyle Hendricks has managed just three of his own, he's allowed just two hits thus far.
More from Cubbies Crib
Cubs' manager Joe Maddon didn't think his team could string together four or five hits to score runs. So he opted to go with Kyle Schwarber in left, giving the Cubs more power in the lineup. So far, that's translated to a lot of swings and misses. But Hendricks is helping keep pace so the Cubs are right in this game.
Strasburgh is showing what all the talk about him has been about. But the Nationals still have to win this game, and then this series for any of it to matter. So far, Hendricks has forced a push, and the first team to score might be the team to win. The entire TBS pregame show team picked the Nats to win. It seems the Cubs aren't the favorites, but we're all fine with that.
There's still plenty of baseball to go. How far will Hendricks go? What about Strasburg? This is a pitchers duel that we might not have expected but is the epitome of playoff baseball.