Chicago Cubs News
Chicago Cubs: Sammy Sosa compares himself to Jesus Christ in interview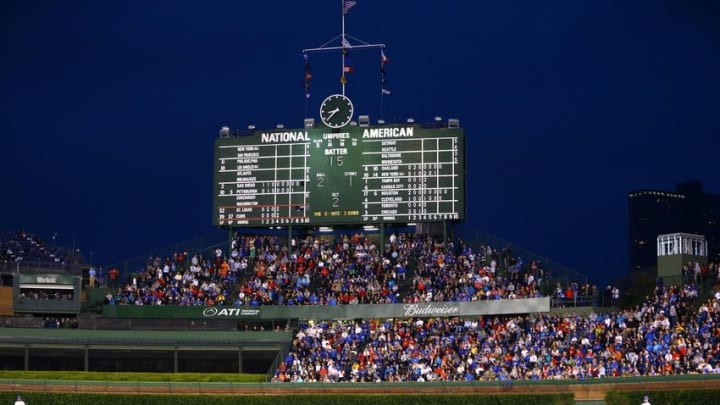 Jul 8, 2015; Chicago, IL, USA; Overall view of the crowd in the outfield grandstands and the scoreboard during the Chicago Cubs game against the St. Louis Cardinals at Wrigley Field. Mandatory Credit: Mark J. Rebilas-USA TODAY Sports /
The beleaguered former Chicago Cubs outfielder touched on a variety of topics in a recent interview with a blogger, including Major League Baseball's 'witch hunt' against him.
Sammy Sosa has always had a flair for the dramatics. He was just the third player ever to eclipse 61 home runs in a season back in 1998. He leads the franchise in home runs in a Cubs' uniform. He came oh so close to leading the Chicago Cubs to a deep postseason run back in 2003. He's seemingly done it all.
Everything except gain entrance to the National Baseball Hall of Fame, that is.
Marred by allegations of performance-enhancing drug usage, Sosa has never come close to the necessary 75 percent mark needed to gain enshrinement in Cooperstown. But, in this interview, the Dominican-born slugger says he couldn't care less.
""First of all, I'm clean. They don't have a case on me. I never failed a drug test. Never in my life. But you know what – this is not my field anymore. I'd rather not be in the Hall of Fame and have a lot of money in my pocket than to be in the Hall of Fame and try to find money to pay my bills," he said in a recent interview."
More from Cubbies Crib
The allegations stem from a 2009 New York Times article that reported Sosa was among the list of players who tested positive for steroids in 2003. He testified in 2005 on Capitol Hill alongside other reported users, including Jose Canseco and Mark McGwire – both of whom have since admitted their PED usage.
The cloud of suspicion has lingered around Sosa since he left the game. At this point, it seems likely to be his fate, despite nearly 600 big league home runs over the course of his career.
""It's like Jesus Christ when he came to Jerusalem," he said in an interview with chuckbloggerstrom.com. "Everybody thought Jesus Christ was a witch (laughing) – and he was our savior. "So if they talk (bleep) about Jesus Christ, what about me? Are you kidding me?""
These recent remarks only add to a poor showing on the behalf of Sosa, who's been ostracized by Cubs fans for nearly 13 years.
Bad blood
Sosa left a seemingly permanent bad taste in the mouths of Chicago Cubs fans when he left Wrigley Field early in the last game of the 2004 season, after requesting to sit out the contest against the Atlanta Braves. A few months later, in early 2005, Chicago dealt Sosa to the Baltimore Orioles for a trio of players.
That was the last time Sosa set foot inside Wrigley Field and, despite back-to-back playoff appearances in 2015 and 2016, the Cubs haven't extended the olive branch to him, either.
For Sosa's part, at least, a reunion seems unlikely.
""I'm not going to go up there and say, 'I'm here. Please bring me back and give me a chance.' No way. I'm not hungry. I have too much pride. They know where they can find me. They're in their way; I am in my way. If they want to have a meeting – of course … I'm a gentleman. I'd never say 'No' to that. If one day it happens, I'd be happy. And if it doesn't, we can talk again on Skype.""
So what to make of all these remarks?
Simply put, it appears that Sosa still hasn't learned a thing about humility or being humble. He's too caught up in his own ego to have even a remote chance at coming back to the Chicago Cubs' family in the near future.
Next: Fowler faces personal attacks from some Cardinals' fans
And if you doubt that assessment of the situation, I urge you to remember one thing. The once beloved superstar just compared himself to Jesus Christ. Just let that sit in for a second.