Chicago Cubs: Epstein becomes one of the greatest baseball minds, ever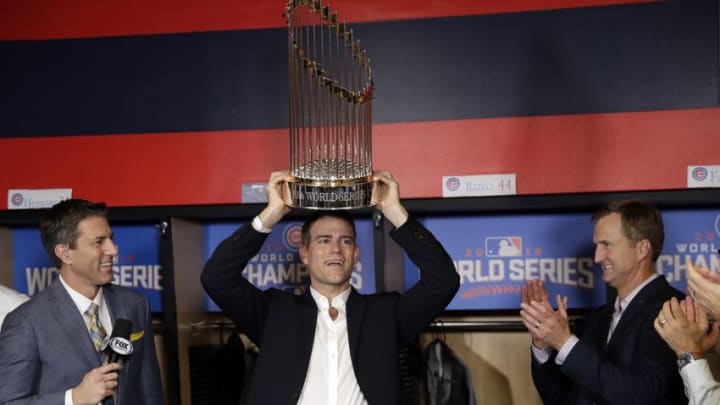 Nov 2, 2016; Cleveland, OH, USA; Chicago Cubs president Theo Epstein holds the commissioner /
The Chicago Cubs are on top of the baseball world after defeating the Cleveland Indians. A hard-fought World Series victory that wiped out a drought that lasted generations. Finally, it's time to celebrate.
At the age of 28-years-old, Chicago Cubs' President Theo Epstein became the youngest general manager in baseball history. At the time, he knew exactly what he was in for knowing how long it has been since the Boston Red Sox won it all.
It took him awhile but eventually, Epstein put a strong team together, ending the drought.
After two years of falling short, the city of Boston had an eruption of their own when the Red Sox finished off the St. Louis Cardinals in 2004. I remember watching that game, thinking to myself how great it would be to have someone like that making moves for the Chicago Cubs.
More from Chicago Cubs News
Just three years later, the Red Sox were back at it again. This time around, it was the Colorado Rockies and Clint Hurdle who were in their way. Colorado had young (at the time) shortstop, Troy Tulowitzki leading the charge.
However, the Red Sox proved to be too much, sweeping them 4-0, celebrating their second World Series title under the Epstein-era. Now he's just showing off, right?
On Another Mission
On October 21, 2011, Epstein resigned from his position with Boston and signed with the Chicago Cubs. This made Cubs fans excited, knowing that they finally had someone who knew what they were doing.
I mean, it's hard not to think that way considering what he did with the Red Sox. So it was going to happen with us eventually, right? Yes, sir. Epstein laid out his blueprint and told us that it his plan was going to take time to unfold.
Year after year, things started to get better and the talent within the Minor League circuit improved as well. Drafting men such as Kyle Schwarber, Kris Bryant, Javier Baez, and trading for Addison Russell, Jake Arrieta, Kyle Hendricks, and Carl Edwards Jr.
Not to mention, his first line of duty after hiring Jed Hoyer as his general manager, was to acquire first baseman, Anthony Rizzo. We'll have more on Rizzo, later on, today, so be sure to watch for that article.
Hiring A Leader
One of his biggest acquisitions aside from Rizzo and the names listed above just so happens to be Joe Maddon. Maddon is one of the smartest managers in the game and was perfect for this job with the Chicago Cubs. Not to mention, bringing Maddon later included Dave Martinez.
Now, Martinez will more than likely end up leaving the Cubs after winning the World Series. He'll receive a ton of manager jobs within the league. We'll end up crossing that bridge when it's time.
All these moves and building a team that would reach the NLCS just a year after they finished with a record of 73-89. As a result of another successful Cubs run, Epstein, and his front office were rewarded with new contracts.
Next: Cubs finish the job in a classic
And now, he's celebrating his third World Series. Wiping out two of the longest droughts in professional baseball has to put him near the top of the list of the greatest baseball minds in history.
Want to know the best thing about this World Series victory? This organization, with the talent under control for the next seven plus years, has an opportunity of winning multiple championships.
Thank you, Theo.