Chicago Cubs: Steve Bartman is a human being, it's time to treat him like one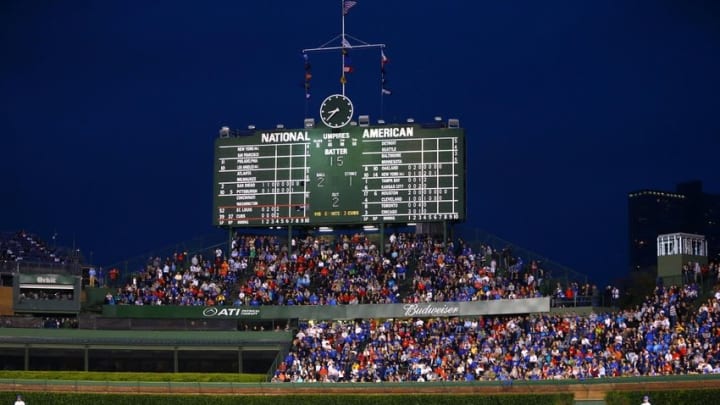 Jul 8, 2015; Chicago, IL, USA; Overall view of the crowd in the outfield grandstands and the scoreboard during the Chicago Cubs game against the St. Louis Cardinals at Wrigley Field. Mandatory Credit: Mark J. Rebilas-USA TODAY Sports /
The Chicago Cubs are one win away from advancing to the World Series.  This has fans overwhelmed with joy and excitement, but also a great deal of nervousness.  It's around this time that we're reminded all about the many curses supposedly plaguing the Cubs.  In particular, the 'Steve Bartman Incident.'
Here's what you need to know.  In Game 6 of the 2003 NLCS, the Chicago Cubs held a 3-0 lead in the eighth inning over the Florida Marlins.  There was one out in the inning, and the Cubs already held a 3-2 series lead.  They were five outs away from advancing to their first World Series since 1945.
Luis Castillo, the Marlins' second baseman at the time, hit a pop-up foul ball that headed toward the stands in Wrigley.  Cubs outfielder Moises Alou charged after it in an attempt to make the second out of the inning, but the ball was reached for, and ultimately knocked away from Alou by Cubs fan, Steve Bartman.
The Cubs would then go on to give up eight runs in the inning, losing the game 8-3.  The Cubs lost Game 7 the very next day, putting their championship hopes to rest once again.  As cameras kept zooming in on his face for all the public to see, fans tossed food and other objects at him as he was escorted out of the park.
The aftermath
The normal life that Steve Bartman once knew had now become a thing of the past.  A lifelong Cubs fan, Bartman was then forced to live a reclusive life.  Though Bartman's name had already started to appear on MLB message boards, media publications felt it was their duty to publicize his name and information.  One Chicago media outlet defended their publication of Bartman's info by saying they weren't the only ones doing it.  Ah, yes, the "everyone is doing it" defense.  It's almost as if this particular publication was being run by a 13-year-old.
More from Chicago Cubs News
I won't use any of the names of these publications, but it probably isn't hard to figure out who some of them were.  You can look it up yourself.  The point is that their lack of integrity helped destroy this man's life.  It didn't matter to them that this normal baseball fan would have to forfeit his usual everyday life.  All that mattered to them was viewership.  And at the cost of one man's way of life, against his will, they got it.
Here's a man who can't leave his house to buy groceries, for fear of actually being physically harmed.  Here's a man who has to have a friend go out and do all of his errands for him because he can't risk being seen in public.  A man who cannot leave his own home.  The journalist's code of ethics was tossed out the window.  Bartman didn't want to be vaulted into celebrity status of this kind, but he got it anyway.
What it meant
Let's get one thing straight.  The Chicago Cubs didn't miss out on a trip to the World Series because of Steve Bartman.  They missed out because they played some painfully bad baseball after the fact.  Did Steve Bartman come into the game and give up eight runs?  Did Steve Bartman lose Game 7 for the Cubs?  No.  The Chicago Cubs did that themselves.
The plight of the Cubs fan is one that most other sports fans will never understand.  The frustrations that have built up after a century of being perennial losers has made Cubs fans both disheartened and annoyingly superstitious.  Steve Bartman was merely a scapegoat.  Not the reason the Cubs lost, but a means to help Cubs fans cope with the fact that their team royally blew it.
From the Curse of the Billy Goat to the Black Cat of 1969, Cubs fans have long felt that their team was destined to lose no matter what.  And in 2003 Steve Bartman was added to that list.  Unfortunately for him, his place on that list will remain relevant until the Cubs finally win the big one.
You would have done the same thing
Here's another thing to remember–you would have very likely done the same thing.  Look at the footage from that fateful night.  Bartman wasn't the only one reaching for that ball.  Fans all around him reacted in the same way, but because he was the one to touch it, he suffered the consequences.  The fans around him, who had the exact same intentions, walked away scot-free.
Wrigley Field holds more than 40,000 people.  Do you know what the chances are that a ball will be hit directly to you in a crowd that size?  It's not exactly a familiar situation for a lot of people.  It's easy to sit at home and scrutinize Bartman after watching that play unfold on a screen, but to be in that moment would be entirely different.  You don't exactly have enough time to analyze the situation before you make a decision.  He acted in the moment as anyone else would have.
It's time to let it go
Despite the fact that this happened 13 years ago, and the fact that the Cubs are really, really good, the media just can't help themselves but to keep making a big joke out of it.  "The Cubs are one game away from the World Series.  Remember the last time they were this close when we helped ruin that one guy's life?"  How could we forget?  We're constantly reminded by a group of people who could care less that they've helped force this life upon him.
It's been long enough now that the Cubs have acquired fans too young to have cared about baseball in 2003.  Social media is largely inhabited by millennials, so the Bartman Incident is merely a story to them; not a memory.  This presents the media with an opportunity to just let this story start to fade away.  Unfortunately, they've used the Cubs current position to rehash it again and again.
And for what?  Is it okay to keep publicizing his life-changing incident just to get some retweets?  To these media outlets, Steve Bartman is not a person, but an object.  An object used to get a few quick laughs.  At the expense of his livelihood, of course.  They ought to be ashamed of themselves.
Next: History could happen right before our eyes
Steve Bartman is a person, let's treat him like one
Quite frankly, young fans shouldn't even know who Steve Bartman is.  From die-hard Cubs fan, to the witness protection program, isn't it time we just, you know, let it go?  I realize that this very article could be counterintuitive to my actual intentions.  I wrestled with the idea of even writing this article, so as not to be the very thing I'm complaining about.  But the Bartman stories are out in full force, and it's time we think of it in a different light.
I know I'm not the only one that feels this way.  But I think it's important to step back and realize that this is an actual person who feels human emotions just like the rest of us.  I love baseball as much as anyone, but at the end of the day it's still just a game.  Imagine not being able to do the simple things in life that we take for granted, just because of a game.
It is possible to be a passionate fan and a compassionate person at the same time.  As we keep moving even further away from 2003, we as fans have done a much better job at this.  It's high time the media did the same.  I for one would love to see him at a Cubs game again, embraced and forgiven by fellow fans.  That dream may never become a reality, but if enough fans have that same dream, Steve Bartman may finally be able to move closer toward a normal life.