Chicago Cubs News
Chicago Cubs: How do we match-up against the Cleveland Indians?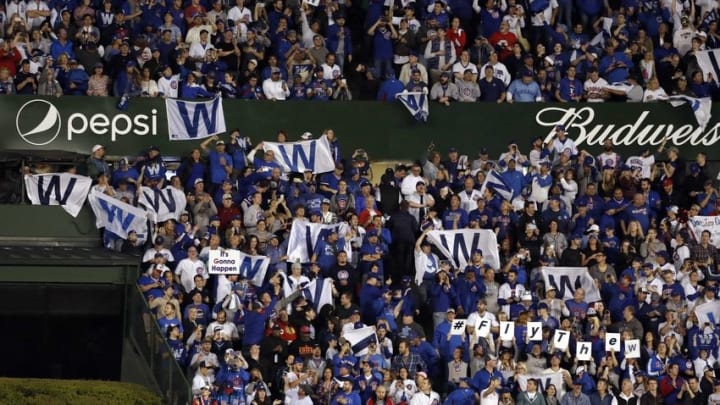 Oct 15, 2016; Chicago, IL, USA; Fans react after the Chicago Cubs defeated the Los Angeles Dodgers in game one of the 2016 NLCS playoff baseball series at Wrigley Field. Cubs won 8-4. Mandatory Credit: Jon Durr-USA TODAY Sports /
One thing has become clear during this postseason—one long World Series drought will come to an end. The question is, which one? Fingers crossed for the Chicago Cubs.
The Los Angeles Dodgers haven't won a title since 1988, and the Chicago Cubs' long absence from the World Series is well documented.
On Wednesday evening, the Cleveland Indians defeated the Toronto Blue Jays to win the ALCS and earn their first World Series trip since 1997. The franchise hasn't won a title since 1948.
More from Chicago Cubs News
Cleveland will have time to study both the Dodgers and Cubs—who are locked in a 2-2 series tie. This may be the single biggest advantage the Indians have over Chicago and Los Angeles, besides their stellar bullpen.
Their rest, however, is a double-edged sword. Cleveland is 7-1 this postseason and has played like a steamroller in their first two series. Taking time to rest could be detrimental to their momentum.
Indians' Pitching
Andrew Miller won the ALCS MVP behind 7 2/3 total innings pitched and 14 strikeouts. Even so, Miller was quick to say that he didn't deserve the honor.
Miller has been the most worked reliever this postseason. He's thrown 11 1/3 innings, struck out 21, and recorded a 0.60 WHIP. His 10.9 K/BB is second only to Toronto's Marco Estrada (19), and his 16.2 K/9 is the highest among relievers.
In his career, Miller is 0-1 with a 12.27 ERA in 3 2/3 innings pitched. The Cubs have hit him well over his career as well, collecting a .308/.385/.885 slash line over four games. Their .444 BaBIP is the third highest allowed by Miller as well.
The Indians have a slew of righties in their starting corps, which bodes well for the Cubs. The club is slashing .259/.430/.775 collectively, hitting 137 home runs and scoring 595 runs during the regular season.
Cleveland's starters have been stellar for the team. Corey Kluber, Ryan Merritt, and Josh Tomlin are ranked in the top-10 for WHIP in the postseason, with Kluber leading the way in innings pitched (18 1/3).
Young offense, seasoned Skipper
In terms of offense, the Indians ranked fifth in the regular season, while Chicago led the league in a multitude of statistical categories. The Indians hit more doubles, had a higher batting average, and struck out less than the Cubs, while only collecting three fewer total bases.
Francisco Lindor has been the heartbeat of Cleveland's offense this year. The 22-year-old shortstop is slashing .323/.581/.924 this postseason, with two home runs and four RBI. He hits both righties and lefties equally well, though he hits righties for more power. The Cubs pitching staff should have their hands full with this young All-Star.
One weapon in the Indians' corner is their manager Terry Francona. He was the manager for both of the Boston Red Sox's 2004 and 2007 championships and is undefeated in his career in the Fall Classic.
Next: Is Game 4 a must-win for the Cubs?
Like Joe Maddon in Chicago, Francona is a master of player relations. You can bet that his team is both mentally and physically ready to take on the World Series challenge.
All things considered, a Cleveland-Chicago World Series would be the pinnacle of the 2016 season.