Chicago Cubs: Travis Wood is the linchpin of team's playoff bullpen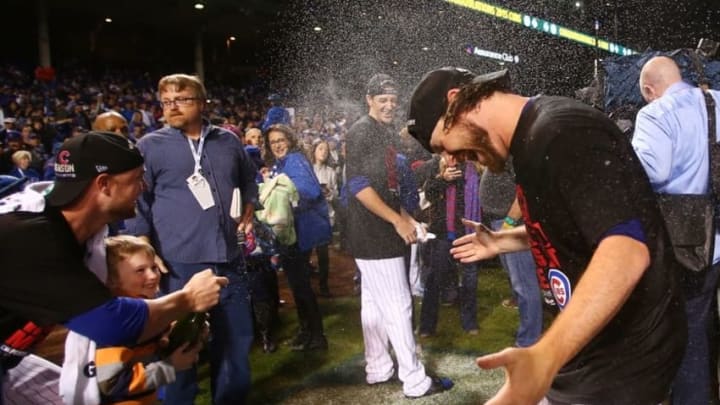 Oct 13, 2015; Chicago, IL, USA; Chicago Cubs relief pitcher Travis Wood (right) is sprayed with champagne by Jon Lester after defeating the St. Louis Cardinals in game four of the NLDS at Wrigley Field. Mandatory Credit: Jerry Lai-USA TODAY Sports /
He's like a folk hero around Wrigleyville; an unrelenting competitor who plays with the resolve of a prizefighter and the brain of a chess champion. A huge piece of this Chicago Cubs organization.
Travis Wood (4-0, 2.95 ERA) is the longest tenured Cub in the Chicago clubhouse. Now, read that sentence again, out loud, and let it sink in. A guy who always seemed to plateau at a fifth or sixth starter role is the most senior player on this overhauled Chicago Cubs roster.
To some, this may seem like Theo Epstein & Co. slowly slipping into senility. Why would they keep a guy who doesn't have the star-power of Kris Bryant or Anthony Rizzo or the championship pedigree of Jon Lester and David Ross? Simple: because he's a master tradesman.
Learning the Trade
More from Chicago Cubs News
Wood began his Big League career as a starter with the Cincinnati Reds in 2010. In both seasons in Cincy, he made 35 starts and threw 208 innings, just north of his total from 2013 in Chicago.
In all, Wood is 35-50 with a 4.19 RA as a starter—not exactly something you'd write home to mother about.
When he landed in Chicago in 2012, however, his career made a sharp swing towards success. With his starting background to rely on, Chris Bosio molded Wood into one of the best most trustworthy pitchers in the Cubs bullpen.
Wood is a four-pitch left-hander who can handle righties just as easily as he does lefties. His cross-fire delivery makes the ball hard to pick up out of his hand and has positive movement on all of his pitches.
To add fire to the flames, Wood can handle the lumber too. He has a career .182/.314/.522 slash line, with nine home runs and 31 RBI's.
What's not to like about that?
Somebody to lean on
As a reliever, Wood is 9-2 in his career, including going 4-0 in 2016. He was second in holds to Pedro Strop during the regular season with 12, and led the bullpen in wins (4), innings pitched (61), and appearances (77).
Those who believe that Jason Hammel would better service Wood's role quickly forget how unfriendly the bullpen has been to Hammel time.
In 99 innings of relief work, Hammel has a WHIP of 1.45 and a K/BB ratio of 1.71, More importantly, and pertinent to the Cubs present situation, Hammel has a career 6.98 ERA in the postseason.
His only decent outings came in the 2012 ALDS between the New York Yankees and Baltimore Orioles. Hammel threw 11.1 innings over two starts, allowing four runs on eight hits, striking out 11. His 6.4 H/9, 4.8 BB/9, and 1.235 WHIP from that series are his career lows.
Next: Early runs lead to Cubs win in bullpen battle
To contrast, Wood has a career 3.27 ERA in 11 postseason innings pitched, and a 12.3 K/9. In four NLDS appearances, Wood has a 1.29 ERA, allowing just three hits and one earned run while striking out seven.
In short, asking Hammel to pitch in the same situations as Wood is an act of lunacy.
Given the overflow of young talent the Cubs have in their farm system and big league clubhouse, Wood may not seem like the prototypical Chicago Cub anymore. His well-rounded experience on the mound and at the plate certainly makes him an asset. Especially deep into October when versatile arms are more valuable than gold (except on the NYSE).