Chicago Cubs: Monday's showdown will have a Game 7 feel to it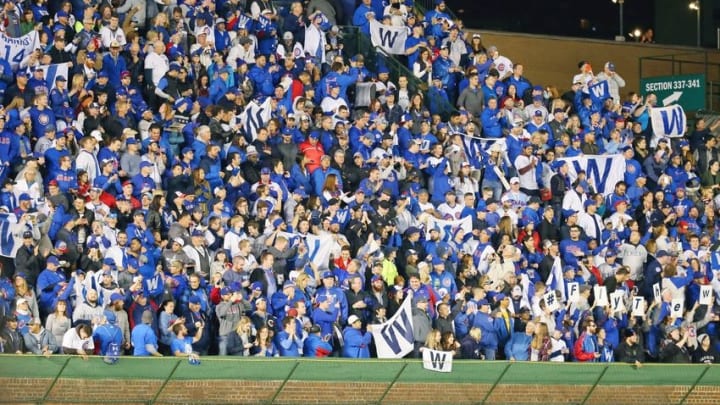 Oct 8, 2016; Chicago, IL, USA; Fans hold up "W" flags after the Chicago Cubs beat the San Francisco Giants in game two of the 2016 NLDS playoff baseball series at Wrigley Field. The Chicago Cubs won 5-2. Mandatory Credit: Jerry Lai-USA TODAY Sports /
The Chicago Cubs are proving that the extended break following the regular season finale hasn't phased them. After defeating Johnny Cueto and Jeff Samardzija, they hold a commanding 2-0 lead over the Giants.
But admittedly, this series has still been somewhat nerve-wracking. I mean, the Chicago Cubs are taking on a team who has been down 0-2 in the NLDS before. San Francisco has battled back and eventually gone on to win the World Series.
Aside from having a 2-0 advantage over San Francisco, Friday's game was as close as it could have possibly been. In fact, Cueto was absolutely on fire, cruising through that Cubs lineup until Javier Baez let loose.
A moment that nearly resulted in me suffering a heart attack. Honestly, that home run felt like a World Series game-winner. Both exciting and a statement.
More from Chicago Cubs News
That statement being this club is not going to give up, at all. Although winning the first two games of the series was important for the Cubs, it is far from over.
Let's take this one game at a time. As mentioned, the Giants have been here before and know what it takes to rally back.
And tomorrow, they will call upon their ace, Madison Bumgarner, to help get them back on track. Or at least, give them an opportunity to make things difficult for Joe Maddon and his group of young bucks who seem comfortable in the box.
On the other side of the ball, Chicago has played great defense. Despite Ben Zobrist's missed play out in left field and Bumgarner taking second on a throwing error, all has been well.
A Tale of the Tape
Now, we are aware that Monday's matchup will be only game three in this best of five to see who advances to the NLCS. With that being said, it will still have a bit, maybe a tad bit, of a Game 7 feel to it.
Why? Because on one side, Bumgarner will look to put the Giants and city of San Francisco on his back like he normally does in October. For the Cubs, it'll be time for the reigning N.L. Cy Young winner to silence his critics.
Both pitchers have squared off against each other's clubs twice during the regular season. Bumgarner holds a 2-0 record against the Cubs (one on the road, one at home), allowing a combined two earned runs on eight hits.
Not to mention, he posted a 16/2 K/BB ratio in 13 2/3 innings of work. Scary numbers for someone who is facing elimination. And you can't ignore his complete game gem against the New York Mets just four days ago.
Cy Young
Enter Jake Arrieta. Arrieta started off the season strong and even hurled his second career no-hitter against the Cincinnati Reds. However, Jake has been somewhat inconsistent in a handful of outings as his regular season ERA ballooned to 3.10.
Last year, he was hammered by the Cardinals and Mets in his first three postseason starts, ever. Granted, Jake chewed up a ton of innings throughout the regular season but was mentally prepared to do the same thing in 2016.
In two games against San Francisco, Arrieta was tagged for three earned runs on eight hits behind a 1-1 record. His K/BB sat at 15/4 in 13 innings. Almost identical to Bumgarner's which makes Game 3 a heavyweight fight.
Next: Cubs' Wood a linchpin of team's bullpen
Perhaps the biggest match-up in the postseason by far. Remember, San Francisco's fans are going to be loud and relentless. So don't get frustrated when their fans lose their minds over a strikeout, routine play, and or hit recorded by the Giants.
Let's return the favor by making some noise of our own. And maybe, just maybe, give them a short trip back home while the Cubs travel back to Chicago and prepare for the NLCS. Worst case? John Lackey gets a shot at wrapping things up on Tuesday.
Fly The W.