Chicago Cubs News
Chicago Cubs: Making the confines friendly, again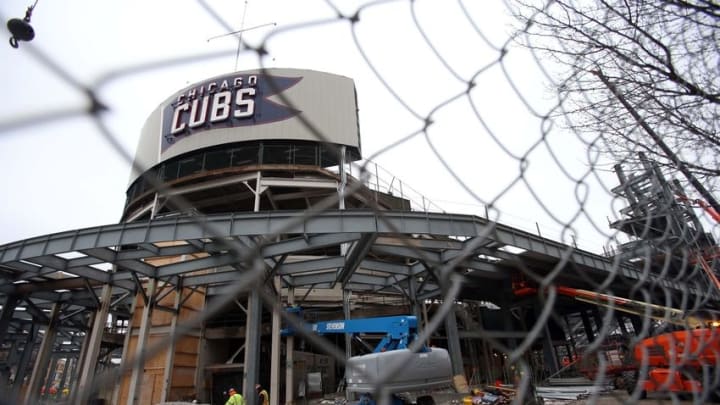 Mar 25, 2015; Chicago, IL, USA; A general view as construction and renovation work continues at Wrigley Field in advance of the MLB baseball season opener. Mandatory Credit: Jerry Lai-USA TODAY Sports /
You're looking at the future of baseball. When the Ricketts family bought the Chicago Cubs for just over $900 Million in 2009, baseball was different. There was no social media presence like there exists today.
Like any business, sports franchises need to be able to adapt in order to survive. The Cubs not only adapted quickly, they set the precedent on how teams will market themselves.
Since 2009, the franchise has more than doubled its value because of strategic moves most fans don't recognize. The renovation is a metaphor for the structural change the organization needed, and got, from its new front office.
It's more than just development, too. Writers often point to the Cubs scouting department as the catalyst for the team's rise to power. But neglect Theo Epstein's skills in the boardroom. To move out of their losing past, Chicago needed to embrace the future. Not fear it,  and be adaptive to change.
More from Chicago Cubs News
Now, they're in a position where either winning or losing the World Series will be beneficial to the League and franchise respectively.
Let's examine how they got there:
Focusing on the Four Determinants
Chicago built a monster of a baseball team primarily by making sound financial decisions, before acquiring top-notch talent. By focusing their efforts to improve the four factors which determine franchise value (Sport, Market, Stadium, Brand), the front office positioned the club for future success early on.
Generating sponsorship was the driving force behind the renovations to both Wrigley Field and Wrigleyville itself. By adding the Jumbotron in left, multiple LED signs, and added bleacher room, the Cubs added up to $50 Million potential for advertising revenue. Needless to say, they capitalized on that potential. The Cubs made $424 Million in 2015 off of stadium advertising.
By renovating Wrigleyville along with the stadium, the Cubs ownership showed they incorporated a community-oriented approach into the rebuild.  Including the multitude of family events that Chicago puts on, this move solidified the Cubs brand as one focused on fan experience.
Revenue
The MLB itself has also been expanding its sponsorship revenue, which is why the salary cap has consistently increased.  Doing so gave Chicago an opportunity to acquire top free agents, thereby satisfying the sports factor by giving the fans an entertaining product. This drives all revenue associated with the team (memorabilia, licensing, tickets, etc.). In 2015, the Cubs made $491 Million in "Sport" revenue, including $144 Million in gate receipts, or approximately $64 per fan.
Chicago is home to the third largest baseball market in the country, behind New York and Los Angeles of course, by about 1.5 million people.  In turn, the Cubs generated $970 Million in revenue from their market, including $60 Million in broadcast rights. They've also recently penned a deal with Comcast and WGN Channel-9 through 2020 which will allow the team to create a lucrative, regional broadcast behemoth.
These factors combined helped grow the Cubs total value to over $2.2 Billion by 2015. The Cubs generated $340 Million in revenue in 2015, increasing their 1-year value change by 22%. It stands to reason that if Chicago makes a World Series appearance, they will generate interest nation-wide.
Benefitting the League
Major League Baseball has famously cashed in on "history" during the World Series. The 1995 contest was known as the "first Series after the strike." Just recently, the 2004 Series, when the Boston Red Sox broke their 86 year Championship drought. As a result, both of these games generated the highest T.V. ratings for the Series since 1991.
The League pays 36% of the postseason gate to the World Series winner. In 2014, the Giants grabbed $22.3 Million, or $388K per player, when they won their third title in five years.
Given Chicago's larger market and longer championship drought, it stands to reason that this figure is destined to skyrocket if Chicago wins.
Chicago is the most popular feel-good story in the League right now. Baseball's best opportunity to sell are one's in which they can attach some significance to a game or team. This combo means that Chicago appearing in the World Series could generate astronomical rating. Meanwhile, simultaneously engrossing a legion of fans for years to come just by participating.
Strides
The franchise has made significant strides to market their brand towards a younger demographic. Most of their fans will admit to following their parent's footsteps into the Friendly Confines. Studies suggest it's younger generations that are stagnating the growth of baseball's overall popularity.
Chicago captured this market by providing a very relatable product to watch. Their average age is 28.8 years old, and most of their stars are younger. Addison Russell is 22,  Kris Bryant is 24, and Anthony Rizzo recently turned 27.
Their staying power within this market in unprecedented.
Next: Cubs look to clinch division tonight at home
The benefits for a World Series Champion franchise are easy to come by and don't need much explanation. Stating how much satisfaction a Commissioners Trophy would bring to the North Side of Chicago isn't necessary either. What's worth noting is that the Chicago Cubs seem poised to rejuvenate interest in the league. Most of all, improving the game in the very near future.