Chicago Cubs: Rondon to provide a much needed boost to 'pen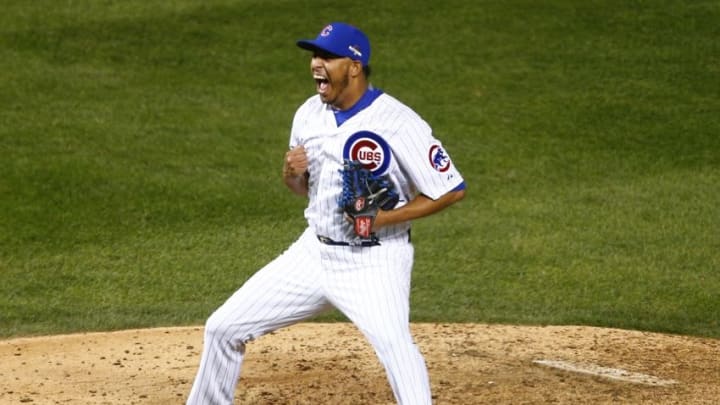 Oct 13, 2015; Chicago, IL, USA; Chicago Cubs relief pitcher Hector Rondon (56) celebrates after defeating the St. Louis Cardinals in game four of the NLDS at Wrigley Field. Mandatory Credit: Caylor Arnold-USA TODAY Sports /
Chicago Cubs' reliever Hector Rondon made just three appearances in August due to injury. Expected to return next week, Rondon will provide a significant boost to the team's bullpen.
Hector Rondon has been out of commission for quite some time, with his absence becoming more and more noticeable by the day. The Chicago Cubs' record hasn't suffered while Rondon rehabs from a right triceps strain. However, the late-inning relief corps has suffered.
Rondon opened the 2016 season as the Cubs' closer, converting 18 of 23 save chances. After the Cubs acquired flamethrower Aroldis Chapman, though, Rondon became the primary late-game set-up man.
For the record, Rondon has a 2.47 ERA in 45 appearances this season, striking out 51 batters in 43.2 innings. Batters have hit .188 against him and have scored just 12 runs (all earned) against him this season.
More from Chicago Cubs News
However, four of those runs came in one appearance, coming August 14th against the St. Louis Cardinals.
Rondon has been nothing short of dominant on the mound this season, continuing his run as a great closer. However, Chapman throwing a 100+ MPH fastball left-handed to close out games is a better option, plain and simple.
Having Rondon pitch the 8th inning and Chapman pitch the 9th inning is a lethal combination for the Cubs. With both men healthy, the Cubs essentially have two closers in their bullpen, albeit one that pitches the 8th inning.
Clearly, the backend of the Cubs' bullpen is strong. However, it hasn't been together for a long time. Chapman made his Cubs' debut on July 27th, more than a month ago. Since then, though, Rondon has only pitched in seven games due to a right triceps strain.
Not only has Rondon been out due to injury, but late-inning reliever Pedro Strop has as well. Strop tore his left meniscus on August 10th, an injury that had an estimated recovery of 4-6 weeks. Strop was ahead of schedule in his rehab before suffering a right groin injury during a workout. Now, his return should come closer to the six-week mark rather than four weeks.
Because Strop and Rondon have had to rehab injuries, Chapman has pitched in more games than the Cubs would like. Just this week, he had to pitch three straight games, something no manager wants to do to a reliever.
With Rondon returning, Chapman will no longer have to close out every close game. Rondon can shoulder a chunk of the burden, whether or not he pitches in a save situation or not. If Chapman needs a day or two off, the Cubs can use Rondon as their closer while Chapman rests.
Next: Lester flirts with history in complete game win
Not only can he close out games, but Rondon will bring back a plethora of experience to the Cubs' late-inning relief corps. Although Carl Edwards Jr., Rob Zastryzny, and Justin Grimm have done a fine job, they have pitched far more than Joe Maddon would like. Rondon being available will be great for getting other relievers rest.
One would not expect a relief pitcher that isn't a closer to mean so much to a team, but Rondon is an exception for the Cubs. His return for September and October will be a huge boost for the playoff-bound Cubs team.