Chicago Cubs extend win streak with impressive 12-1 win vs Mariners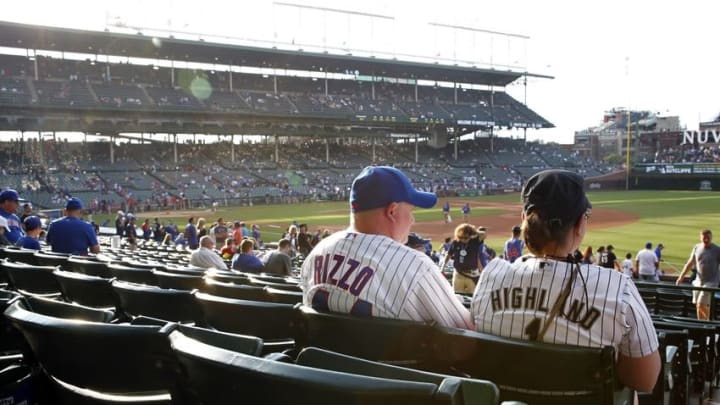 Jul 28, 2016; Chicago, IL, USA; Chicago Cubs and Chicago White Sox fans sit together before the game at Wrigley Field. Mandatory Credit: Caylor Arnold-USA TODAY Sports /
Heavy rain and thunderstorms invaded the Midwest again, resulting in the Chicago Cubs and Seattle Mariners going through a little bit of a rain delay. But rain wasn't the only thing that made an appearance in today's series opener.
It was Chicago's offense. It has been awhile but the Chicago Cubs (62-40) recorded more than 10 runs as they demolished the Seattle Mariners (51-49) by the final score of 12-1 behind a couple of home runs from two of their seasoned veterans.
And while those bats were unloading on Seattle's starter, southpaw Jon Lester turned in a solid performance to earn his 11th win of the campaign. Lester (11-4, 2.95 ERA) was spectacular through six innings, holding the Mariners to four hits while issuing two walks, and recording seven strikeouts.
As far as his counterpart is concerned, well, Hisashi Iwakuma (11-7, 4.21 ERA) had somewhat of a terrible day on the bump.
More from Chicago Cubs News
In only three innings of work, Iwakuma was tagged for five earned runs on eight hits, one walk, two strikeouts, and one home run surrendered to right-fielder Jason Heyward during the home half of the third inning which made it 5-0 in favor of the home team.
Chris Coghlan, who returned from the disabled list, got things going with a two-run single in the second, scoring Javier Baez and David Ross with two outs. Coghlan later came around to score on Kris Bryant's RBI single out to left field, extending the lead to 3-0 before Heyward went yard.
Veteran catcher David Ross joined in on the fun by crushing his seventh home run of the aging campaign, starting a huge six-run sixth inning.
Next: What has been Epstein's best trade?
First baseman Anthony Rizzo stepped into the batter's box with the bases juiced full of Cubs following back-to-back-to-back walks with no outs. Rizzo worked the count full before turning on the seventh pitch of the at-bat and sending it out to left field to unloaded the bases — his 28th double of the year turned it into a 9-0 ballgame.
Heyward tallied his third RBI of the afternoon on a sacrifice fly, scoring Rizzo moments later. Baez capped the frame with a RBI single of his own, stretching the lead to 11-0.