Chicago Cubs News
Chicago Cubs News: National League Division Series rematch set in St. Louis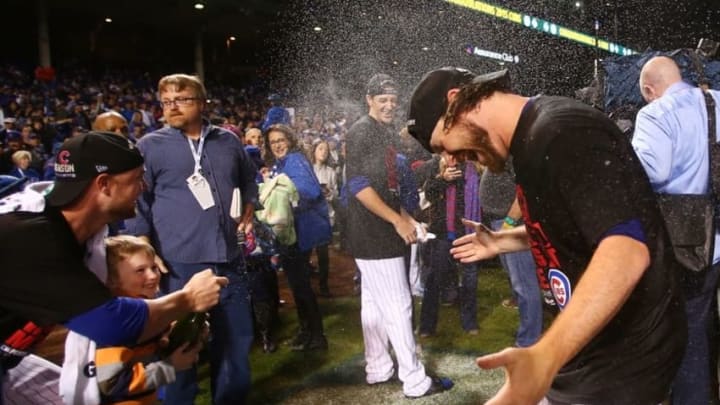 Oct 13, 2015; Chicago, IL, USA; Chicago Cubs relief pitcher Travis Wood (right) is sprayed with champagne by Jon Lester after defeating the St. Louis Cardinals in game four of the NLDS at Wrigley Field. Mandatory Credit: Jerry Lai-USA TODAY Sports /
After dominating the first few weeks of the regular season, the Chicago Cubs suffered their first series loss at the hands of the Colorado Rockies. Third baseman Nolan Arenado backed Tyler Chatwood with two home runs Sunday afternoon, winning the series finale by the final score of 2-0.
Still, the North Siders wrapped up their first home stand of 2016 with a 4-2 record and will hit the road for another road trip. This time, they'll visit the St. Louis Cardinals for a three-game set starting tonight, kicking off the highly anticipated rematch. These two clubs met in the postseason in 2015 for the first time in history.
The man taking the mound tonight, John Lackey, dominated Jon Lester and the Cubs in the opening game of the National League Division Series but would run into a brick wall in his second outing. Chicago took Game 2 of the series and kicked it into second gear, hammering both Cardinals starters and relievers.
And then you have one of the most exciting moments in baseball history. Outfielder Kyle Schwarber connected on a pitch that landed on top of the video board out in right field. Most assumed that it cleared the board itself and landed onto Sheffield Ave.
More from Chicago Cubs News
Now that Schwarber is on the disabled list, opposing pitchers won't have to worry about him doing the same to them in their first encounter of the season. But they will, however, have their hands full with a lineup that's stacked from top to bottom.
Leadoff man Dexter Fowler is off to a great start and is behind first baseman Anthony Rizzo with two home runs. Fowler returning has been key in this 9-3 start to the season. He should start all four games in the outfield depending on the situation.
Aside from Lackey, right-fielder Jason Heyward also made the decision to sign with the Chicago Cubs over the offseason. Heyward has had an important tie with this club dating back to his big league debut with the Atlanta Braves. He took pitcher Carlos Zambrano deep in his first at-bat.
Heyward is yet to hit his first home run as a member of the Chicago Cubs so maybe, just maybe, it'll happen on the road in St. Louis. Nobody is expecting either Heyward nor Lackey to receive a warm welcome when it's their turn to step into the batter's box. Cardinals fans said some pretty hateful things about both of them after they jumped ship.
With that being said, here are a few more articles you may have missed over the weekend:
'Cubs Minor League Recap: Jockish claimed off waivers'
'Cubs Recap: Rockies take series from Cubs in 2-0 win'
'Best Reds Ever: Joey Votto vs Felipe Lopez' – Blog Red Machine
'Cardinals face big test against the Cubs' – Redbird Rants