3 Chicago Cubs Players to Watch in the World Baseball Classic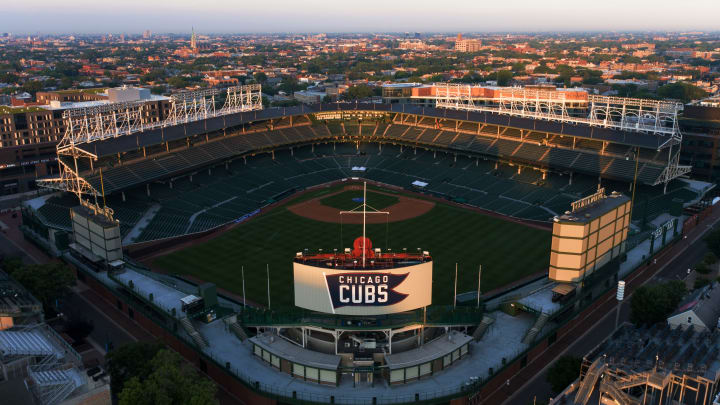 Chicago Cubs Summer Workouts / Quinn Harris/GettyImages
Oct 26, 2022; Surprise, Arizona, USA; Chicago Cubs outfielder Owen Caissie plays for the Mesa Solar / Mark J. Rebilas-USA TODAY Sports
Owen Caissie
The first player to watch is the Cubs' number 10 prospect, Owen Caissie. Caissie will be playing for Canada in the WBC. Drafted by the San Diego Padres in 2020, the Cubs' acquired Caissie in the Yu Darvish trade. The 20-year-old outfielder has played in 159 minor league games during his two minor league seasons. He has hit .270 with 18 home runs and 87 RBI while slugging .430. Although this is an impressive line for what is basically a full MLB season, Caissie has his struggles. In those 159 games, he has struck out 191 times. This whiff rate is concerning going forward, but his talent and raw power are exciting. Caissie's scouting report mentions that he has the best raw power of any Cubs' minor league player. He still has a few years before fans can see him at Wrigley, but he can be seen playing for Canada this March.
It should not be a surprise that Caissie is playing for Canada in the WBC because he was born in Burlington, Ontario. He is Canada's highest-drafted outfielder, so it is only fitting he represents them in the WBC when given the chance. Los Angeles Dodgers first baseman Freddie Freeman will also be playing for Canada, and this could be very good for Caissie. Caissie does not play first base, but he is a 6-foot, 4-inch left-handed bat that projects to have some power. Now is the chance for Caissie to follow Freeman's every move, pick his brain and learn as much as possibly can. To make things even better, hall-of-fame left-handed bat Larry Walker will be the hitting coach. Those are two very good hitters for Caissie to learn from during the WBC.
As stated before, Caissie still has a few years before he is major league ready, but the WBC is a great way to see how he does against major-league pitching in a competitive environment. If Caissie can showcase some power, drop his strikeout rate, and help lead Canada to a few wins then Cubs' fans can understand why he is the number 10 prospect in the organization.