Cubs: 'Who's on first?' – why so many broadcast tandems on Marquee?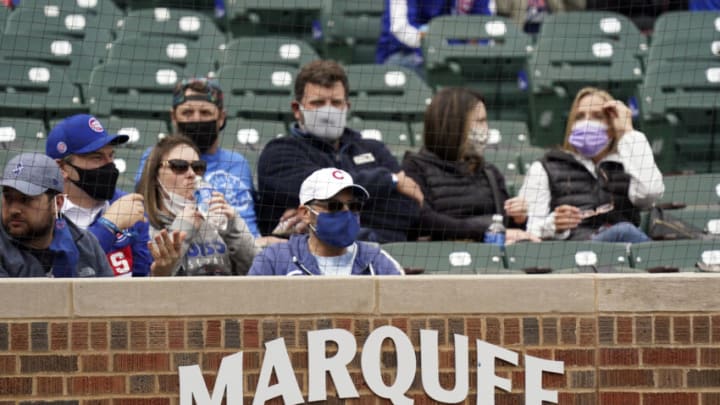 (Photo by Nuccio DiNuzzo/Getty Images) /
In the late 1930's, the comedy duo of Abbott (not Cory) and Costello (not my Elvis) began modifying an old-time burlesque sketch which became "Who's on First?" In the 1988 movie Rainman, Dustin Hoffman's character Raymond, when stressed or nervous, would repeatedly repeat the sketch.
Because we follow a team that's 23 1/2 games back, we need some comedy. A few years after that movie, at the height of his popularity, comedian Jeff Foxworthy had a funny line that was something like "It's like opening a Christmas present from your grandmother, you never know what you're going to get."
I ask that same 'who's on first?' question every time I tune into a Cubs game on Marquee Network lately because, well, it seems like there's a new tandem in the booth on a nightly basis.
In my life as a Cubs fan through 2020, four announcers broadcast games on WGN, CSN and now Marquee. Jack Brickhouse (1948-1981), Harry Caray (1982-1997), Chip Caray (1998-2004), and Len Kasper (2005-2020). Four men in 72 years which is somewhat remarkable. Two are in baseball's Hall of Fame. I regret that Caray never got to broadcast a game with the Kansas City Royals attempting to pronounce pitcher Hipolito Pichardo's name backwards late in a game after a few Budweisers.
This season alone I am fairly certain at least four different people have broadcast a game. Jon "Boog" Sciambi, Pat Hughes, Beth Mowins and Chris Myers (I think – I have not kept, or found a record of each game in this regard)). The color man, or sidekick, used to be fairly consistent although not as static as the play-by-play person. Steve Stone (1983-2000) and Bob Brenly (2005-2012) covered two decades.
This season, I believe, Jim Deshaies, Ryan Dempster, Rick Sutcliffe, Ron Coomer and Doug Glanville have all been in the booth, occasionally in a three-man team. If they didn't have enough commentators already, Joe Girardi was added to the mix as well. Mark Grace and Ryne Sandberg have done games in the past, but I cannot specifically say that they have this season. Deshaies, who I think is a good commentator, never even played for the Cubs.
I know "Boog" also works for ESPN, necessitating another announcer. Mowins is noted as the first woman to broadcast a game. Taylor MacGregor and Elise Menaker serve as on-field reporters and the latter is also a studio host. Cole Wright is the usual 'studio host,' and if I list and describe all of them this will be the length of "War and Peace."
Cubs: The TV booth this year has been constantly shifting, changing
I have to be honest, I rarely listen to the games on the radio as I am often home at night when the games come on. Hughes is one of the best announcers I have ever heard and his recent induction into the Cubs' Hall of Fame is overdue. He can take a dull game an inject his subtle dry humor and make an 8-0 rout seem interesting. Dempster tries to be funny (his Harry impersonation being a prime example) and often is, but I like Hughes' approach because he just sneaks it onto the conversation. Listening to his broadcast is like wearing a comfortable pair of shoes, and he should be in Cooperstown some day, as well.
I have no idea why Marquee is carrying so many different announcers. I know some have other jobs, COVID is still making the rounds regularly, this or that, and it seems like just as you get used to one, they bring another one in. I have never heard or read why it seemingly constantly changes, but it must be worth it financially because they are all doing this.
Does Marquee set the schedule? Do the announcers? I'm somewhat, but not that interested why it changes. It's just a game. I'm sort of old school, and like A LOT of things, I have to adjust to change. Turn on the TV tonight, and once again ask: 'Who's on first'?