This year's Cubs team feels an awfully lot like the 2014 squad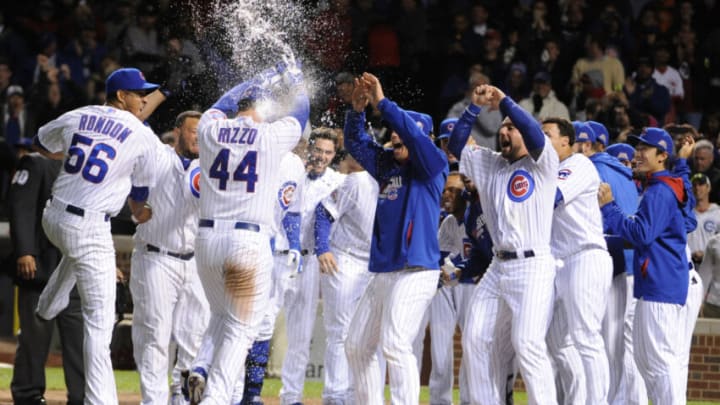 (Photo by David Banks/Getty Images) /
Just over two years before workers swept away waves of confetti from the streets of Chicago following a parade of historic proportions, the 2014 Cubs quietly closed out their season with a win at home over the Brewers to finish the year at 73-89, marking their sixth consecutive year without a postseason appearance.
It wasn't all doom and gloom, though. Under Theo Epstein, Chicago had spent years re-tooling, taking an outdated, outmatched organization and laying the foundation for a potential powerhouse. That winter, the 1060 Project got underway, with the mammoth video boards towering over the still-unfinished bleachers by the following Opening Day, grinding the gears of baseball traditionalists, but opening up yet another revenue stream for the team.
Opening Day 2015 felt different – and not just because there was scarcely a working restroom to be found at the Friendly Confines that night. But we're getting ahead of ourselves. This is about that 2014 club – and how similar they are to this year's Cubs.
There was talent on that roster. Up-and-comers like Anthony Rizzo and two-time All-Star Starlin Castro anchored the lineup and Jeff Samardzija (at least for half the year) and a budding Kyle Hendricks looked good in the rotation. We also got our first look at Jake Arrieta in a Cubs uniform that summer – and he gave us a brief glimpse of what was to come the following year.
But there were a lot of question marks on the lineup card on a nightly basis, as well. Any time you're trotting out the likes of 'former top prospects' (that 'former' makes a difference and tells you all you need to know) like Mike Olt – or two-thirds of your outfield consists of Nate Schierholtz and Arismendy Alcantara, you know things aren't where you'd like them to be.
During the first half, this team was pretty not great, heading into the All-Star Break at 14 games under .500 at 40-54. The sad part about the 2022 squad's performance is they were notably worse than that 2014 team, going 35-57 in the first half of the year. Thankfully, like the team of eight years earlier, they started figuring some things out as the season has progressed.
The 2014 Cubs got massacred on the road; after all, they finished the year just one game under .500 at Wrigley, going 40-41. However, a 32-49 mark away from the Confines doomed them. This year's ballclub, well, it hasn't mattered where they play – it's been pretty a pretty middling performance from David Ross' club both at home (28-38) and on the road (26-33).
Both Cubs teams buoyed by strong second-half performances
But in the second half, both of these teams really found their stride. Rick Renteria's 2014 Cubs wound up going 33-35 down the stretch. Now, I know, you're not winning any division titles – heck, you're not even sniffing the postseason – playing .500 ball, but it was a noted improvement from the first half of the year.
Ross' Cubs have performed in a similar fashion, carrying a 19-14 record since the Midsummer Classic, including a .542 winning percentage in August entering this weekend's series in Milwaukee.
The main point I'm trying to make is this: Epstein's successor, Jed Hoyer, has hit the nitrous on this rebuild and the Cubs are much closer to returning to contention than a lot of folks realize. Like the 2014 team, there are some key pieces emerging (Nico Hoerner and Justin Steele, among others) – and with the checkbook ready to go, there's no reason the front office can't replicate its approach from the 2014-15 offseason, when they went out and added a franchise-altering ace in Jon Lester, also acquiring Miguel Montero, Jason Hammel and Dexter Fowler.
In 2015, we got the big league debuts of soon-to-be NL Rookie of the Year Kris Bryant and Addison Russell, Javier Baez found success and started to leave his mark on the Cubs and Arrieta turned in a once-in-a-generation second half en route to NL Cy Young honors.
Will history repeat itself on the North Side? We don't yet know. What we do know, though, is the pieces are in place for Chicago to be right back in the thick of things next year.