There's a lot more to Steve Goodman than 'Go Cubs, Go'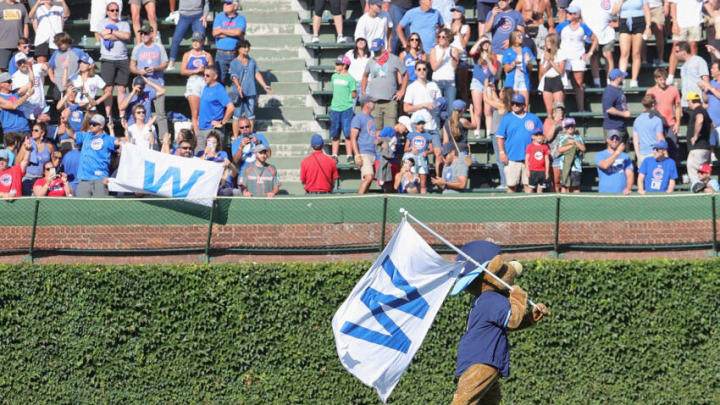 (Photo by Jonathan Daniel/Getty Images) /
When the W is hoisted high above Wrigley Field, millions of fans have sung along to "Go Cubs Go!" I find it fun to scan the crowd and see which fans should NOT be driving home in their drunken reverie. Since our Cubs have won six in a row, and the song was played after the last two home victories over the Pirates this week, it seemed good timing to share the genesis of this song and its singer.
The song was written and performed by a Chicago singer/songwriter named Steve Goodman in 1984. It is my honor and pleasure to hopefully enhance your musicology with more of this amazing artist.
It was written in response to Cubs management, specifically General Manager Dallas Green (1981-1987), disliking an earlier Goodman work called 'A Dying Cub Fan's Last Request'. If you have not, please listen to the song as it is a better representation of Goodman's songwriting and humor.
He penned that song in 1981, which would turn out to be somewhat prophetic in his life. His new tune was to be more upbeat and positive, and if you are enough of a Cubs' fan to be reading this, you know the lyrics. It has been a mainstay following Cubs wins since 2007-2008.
Goodman was born in 1948 and was a lifetime Chicagoan. He doesn't slot well into a specific genre, perhaps the best description is his music was a hybrid of country and folk, much like his friend John Prine. If you are unfamiliar with his music, please allow me to encourage you to listen to him with equal enthusiasm. Oh yeah, the baseball part. Forgive me for attempting to be an apostle for these musicians' work.
'Go Cubs, Go' has become an anthem – especially since the 2016 title
In 1984, WGN Radio, who broadcast the Cubs from 1925-2014, also requested a new Cubs' themed song. It premiered on Opening Day, 1984, and became the Cubs official song that year. I have good and bad news about that year if you are unfamiliar, excluding references to George Orwell. The Cubs made the postseason for the first time since 1945, and Steve Goodman passed away at just thirty-six years old. Leukemia took him just four days before the Cubs clinched the Eastern Division Championship.
Goodman was a friend and collaborator with many, many well-known artists of his day. He opened for Johnny Cash and Steve Martin in the heyday of his incomparable stand-up shows of the late seventies. Kris Kristofferson and Arlo Guthrie were friends, and Woody's son made Steve's song "The City of New Orleans" a Top 20 hit. Willie Nelson, Jimmy Buffett and several other artists have covered his songs.
His catalog is worth sampling, "Go Cubs Go" is an enjoyable way to celebrate Cubs win, but he has a rich collection of songs that deserve attention. I find it fitting that in 1988, some of his ashes were dispersed at his beloved Wrigley Field. He fought leukemia for fifteen years, yet if you Google some of his photos, he is seemingly always smiling. His fellow artists cite his unflinching positivity and energy on stage.
Neil Diamond wrote a song called "Done Too Soon." Goodman would have just turned seventy-four years old if he were alive today. Unlike some of the names in Diamond's song, Goodman was truly done too soon. Give his music a listen, and Go Cubs, Go!