As much as I loathe the ghost runner, at least it helped the Cubs Sunday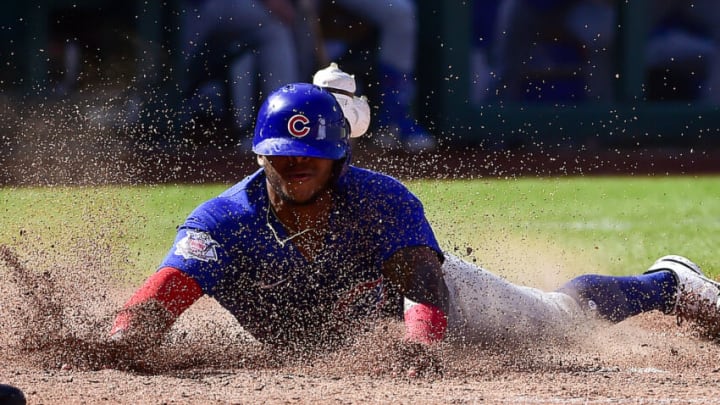 Mandatory Credit: Jeff Curry-USA TODAY Sports /
Timing can be fortuitous. I have been waiting for this moment, so here goes:
On Sunday, Cubs rookie outfielder Nelson Velazquez struck out to end the top of the ninth inning and became the 'ghost runner' when the tenth inning began. Willson Contreras singled him in and David Robertson held the Cardinals scoreless in the bottom of the inning to close out the victory. The come-from-behind win gave the Cubs a series win on the road against the rival Cardinals. As Bob Seger once sang, "Little Victories."
Nevertheless, I hate the ghost runner rule. Wait, I have been told 'hate' is a strong word, so let me alter this to: I hate the ghost runner rule in the major leagues. This isn't t-ball.
When the rule was implemented in 2020 during a global pandemic that has taken the lives of more than six million worldwide, I didn't mind necessary, temporary changes, for the safety of the players and staff. Seven-inning double headers were fine too, short-term.
This spring I was livid when the ghost runner returned to MLB. I understand it at the two ballfields near my home where I sometimes walk down and enjoy youngsters playing my favorite game (until the rabid dads open their mouths). I'm OK with this at the interscholastic and intercollegiate level. Maybe in the minor leagues, not MLB. I wonder if the commissioner knows that some are calling the ghost runner the 'Manfred man." Sir, that is not a compliment.
For some reason, it came back. The owners and players union must have agreed upon this, which I think disturbs the integrity of the game at the highest level. Since America used to be the land of compromise, I will respectfully offer one.
If a big league game goes to extra innings, it is played as it has been for decades for three innings (which I would bargain to two if absolutely necessary). Should the affair hit a 13th inning, though, the 'Manfred man,' can go to second. Both sides get something in such a proposal. Thoughts?
While I am at it, I have one more change to throw at you. I never want the big leagues changed (clearly, I'm a traditionalist), because of history, long-standing records and the like. When I check in on the Cubs down on the farm, I too often read Pitcher B was awarded the victory because Pitcher A, the starter, did not go five innings.
Cubbies Crib /
Want your voice heard? Join the Cubbies Crib team!
With how rare it is for starters to go deep into games now, this is one rule worth taking a closer look at – at least in the minor leagues. Again, not a fan of the ghost runner – but at least on Sunday, it played a role in the Cubs getting an end before coming home to Wrigley.