Chicago Cubs News
Cubs: Expecting a no-hitter at Wrigley Field? You probably shouldn't.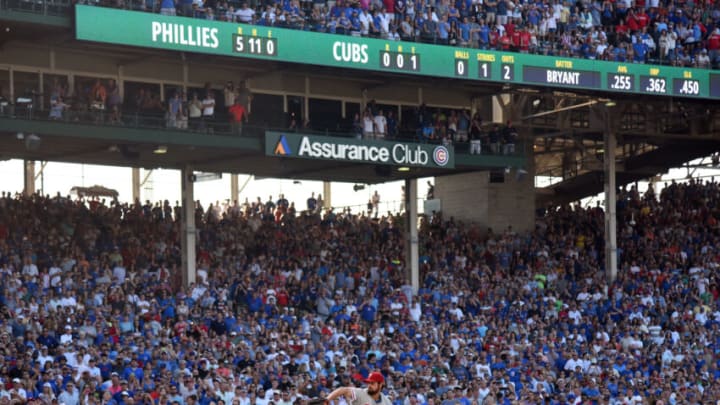 (Photo by David Banks/Getty Images) /
The Chicago Cubs are no strangers to no-hitters – at least not lately, that is. At his peak, Jake Arrieta doled out two no-nos and during the shortened 2020 season, soft-tossing righty Alec Mills etched his name into the history books, throwing a no-hitter against the Milwaukee Brewers on the road.
But looking back from Arrieta's first no-hitter on Aug. 30, 2015 against the Dodgers in Los Angeles, the Cubs have just one since 1972: Carlos Zambrano's highly irregular effort against the Houston Astros at Miller Park that came after Hurricane Ike forced the league to move the series from Texas to a neutral site.
Notice anything all four of these no-hit efforts have in common? All of them took place on the road. Not since Milt Pappas no-hit San Diego in Sept. 1972 have the Wrigley Field faithful bore witness to the accomplishment – and, recently, MLB.com broke down just how likely a no-hitter is at each of the 30 big league ballparks.
The Friendly Confines check in at #20 on the list – based on the eight total no-hitters that have taken place at the historic venue over the span of a staggering 8,333 total games. The piece points out that, at this point, you're more likely to see a Cub make history a few hours north on I-94 than in Wrigleyville, given two of the last four Cubs no-hitters have taken place there.
Cubs: The last no-hitter at Wrigley came from a future Cub in Cole Hamels
When I personally think of no-hitters at Wrigley Field, I remember driving west on I-80 heading back to Des Moines with my now-wife listening to the Cubs game on the radio in 2015 with Cole Hamels carving up the young ballclub.
It just felt like it was going to be one of those days based on how Pat Hughes was calling the game – and thanks to a superb game-ending catch – the Phillies (and future Cubs) left-hander Cole Hamels made history, throwing the first Wrigley no-no in decades.
Given the pitch-to-contact repertoires of the Cubs staff heading into 2022 and the infield defense that has a lot of question marks, a no-hitter this year seems like a long-shot. But, as we've seen as baseball fans, history can happen any time out.
Looking at some other highlights of the MLB.com list, the likeliest ballpark to play host to a no-hitter is the new home of the Texas Rangers, Globe Life Field, which has seen two already, despite hosting a grand total of 127 contests. Pretty wild.