Cubs: Spinning the wheels on Victor Robles in 2022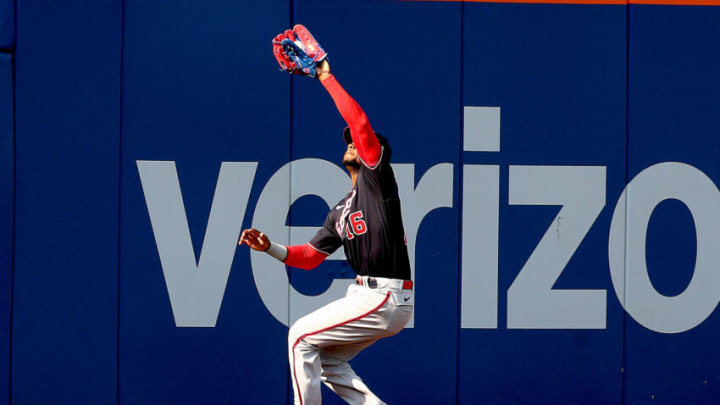 Mandatory Credit: Andy Marlin-USA TODAY Sports /
Not long ago, Victor Robles was in talks as a centerpiece of a package for former Chicago Cubs third baseman Kris Bryant. Spinning the wheels in terms of value and prospects, the Cubs had made it known at the time that any deal involving Bryant would include Robles. Fast forward in time, and it may be the right time to reconsider the Washington Nationals' center fielder once more.
Robles was mentioned as one of ten "change of scenery" candidates for the 2022 season in CBS sportswriter Mike Axisa's recent post, and it may be time to re-tread those tires in examining the possibility the Cubs attempt to swing a deal once the lockout ends. As things sit currently, Rafael Ortega is the guy for Chicago until top prospect Brennen Davis is ready. So the question is, does Chicago revisit this avenue?
Chicago Cubs: The continued drive to acquire young talent
Robles was one of the premier center fielders just two short seasons ago. Between 2018 and 2019, the 24-year-old logged a collective 1,294 innings in center field, with a 25 DRS and a 15.1 UZR/150. However, the COVID-shortened season was a different story as Robles posted a -4 DRS over 422 2/3 innings in center, along with a -9.7 UZR/150.
Offensively, Robles was also rolling up until that same shortened 2020 campaign. As a 22-year-old in 2019, he appeared in 155 games and slashed .255/.326/.419 with a barely below league average 92 wRC+. Keep in mind – before the 2019 season, the righty had logged only 34 total games at the major league level.
In his last two seasons, Robles has played 159 games combined. He's hit just .209 over that span with a very poor 67 wRC+ and a -1 WAR. Nevertheless, his projections foretell an upcoming bounceback season, making him the perfect target for a club like the Cubs.
Fans understand and have come to terms with the rebuild stemming from last summer's cleansing, despite ownership's reprieve. In looking forward, I hope the new dawning of talent can help build the Cubs back into a perennial contender. Ortega was fine for the 103 games last season as he hit .291, but he is also about to turn 31, and long-term sustainability seems unlikely.
Robles, meanwhile, still has two years of arbitration before he becomes an unrestricted free agent in 2025. However, as Davis is nearing his big league debut, which should happen at some point in 2022, a healthy Robles would bridge the gap in awaiting Davis' rise.
The Washington Nationals demoted Robles to Triple-A last season without thought, leading to the idea that his time in Washington could soon be coming to an end. The Cubs certainly have the battery and depth to swing a deal, and it honestly would not take much to acquire Robles at this point. If the Cubs want to continue on a complete rebuild, why not go all-in on the young talent and shoot their shot? It could pay off in the long run.