Chicago Cubs eyeing the possibility for very own streaming service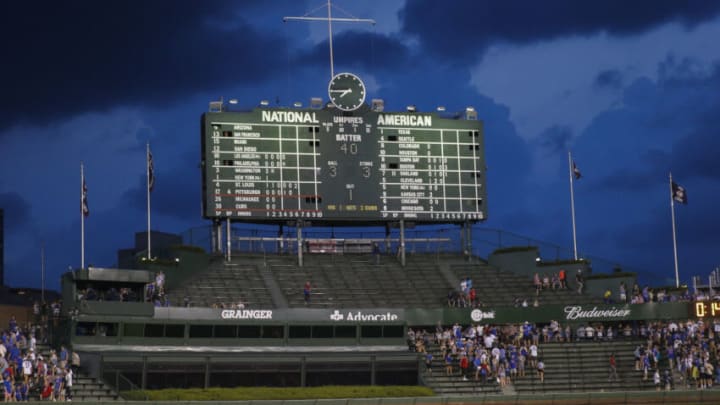 (Photo by Nuccio DiNuzzo/Getty Images) /
The Chicago Cubs may be coming to a blacked-out area near you.
In a strange timeline of events, it has most recently been reported that the Cubs are eyeing the possibility of their very own monthly direct-to-consumer streaming service beginning in 2022. Sinclair Broadcasting, the massive media conglomerate who practically owns television, has reportedly been in talks with the Cubs about a new idea to provide access for those without cable or in blacked-out areas to be able to watch their beloved team.
As this is a fresh-off-the-press news item, very few details are known about the processes and procedures that go into a major deal such as this, and it remains to be seen what it will look like and how it could shift the winds of change in favor of more franchises undertaking such an endeavor.
Chicago Cubs: A second chance at success for the Marquee Network?
It's the worst-kept secret in Chicagoland. The Marquee Sports Network has, on its own volition, failed to impress a single person. However, this new plan may break the mold and be worth a small-ish monthly fee.
Naturally, with something of this magnitude, there is the discussion of how fans can get the most bang for their buck. Based on those reports, it seems as though an $18-a-month fee will accompany the new service, which has already been argued as being too far over the top in pricing terms.
Assumedly, more teams will want in on the pie, so that fee would not necessarily be tied directly toward only the Cubs and instead as a whole on the grander scale based on who and how many teams are involved in making this dream a reality.
Naturally speaking, it does not sound like the current commissioner is too thrilled at this possibility, namely the quality of the broadcasts, which could potentially be negatively affected. However, as baseball fans have seen Rob Manfred's true colors, fans may ignore the rallying cries against it and instead understand the difference in doing everything they are able to watch their team play baseball every day.
It is surprising in dating back to the early days of Netflix and Hulu that Major League Baseball never did operate its in-network streaming service for the locals of a given area. But, of course, it could all change in a manner of a few short months with the Cubs at the head of the pack.
On paper, this sounds great. However, Marquee Sports Network sat in the same boat, and it has not been received well from fans. This is also a big deal for Sinclair as there has been previous bad blood between the group and Major League Baseball.
Sinclair currently operates for half of the teams in the National Basketball Association, so it is not unrealistic we could quietly see this thing come to fruition. If this is the case, it could be the game-changer that MLB has so actively been seeking out, which could help the game in many ways for fans and prospectors alike.