Chicago Cubs: Derrek Lee was robbed of the 2005 NL MVP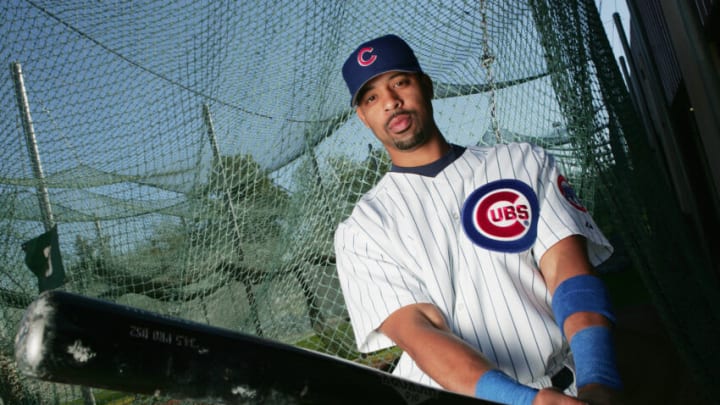 (Photo by Jed Jacobsohn/Getty Images) /
Peak Albert Pujols was probably the scariest hitter I've seen in my lifetime. The three-time six-time Silver Slugger and 10-time All-Star put up gaudy numbers during his Cardinals career and will one day be enshrined in the hallowed halls of Cooperstown.
But if I had my way, I'd take one piece of hardware from him: his National League MVP trophy from the 2005 season. Why? Because it belongs to former Chicago Cubs first baseman Derrek Lee.
The former 14th overall pick wound up as a finalist for NL MVP, but finished third behind Pujols and Atlanta Braves outfielder Andruw Jones, who turned in a whale of a season himself, showcasing his typical elite defense in center while belting 51 home runs and driving in 128.
Lee's 2005 was a season for the ages. The Cubs weren't anything special that year, but their slugger certainly was, appearing in all but three of their games and ranking among the league leaders in almost every offensive category, topping the Senior Circuit in hits, batting average, slugging percentage and OPS.
It didn't matter what the matchup was or how intense the situation. He carried an OPS north of 1.000 against lefties and righties alike, raked at Wrigley and on the road and had an OPS below that 1.000 mark just once – and it came in the final month of the season, when he clocked in at a .958 clip.
You can pretty easily discern why he didn't garner more support. His second-half performance paled in comparison to what he did prior to the All-Star Break. In his first 84 contests, he batted a ridiculous .378/.452/.733 with 27 home runs and 27 doubles. But down the stretch, he hit just .287/.380/.581 which, let's be honest, is still MVP-worthy.
Oh, and if you're pointing to defense, don't bother. Jones is remembered for flashing the leather – and rightfully so – but Lee brought home three Gold Gloves in his career for his work at first base, including one – you guessed it – at the end of that 2005 campaign.
A lackluster Chicago Cubs team did Derrek Lee no favors in the MVP race
Playing for a middle-of-the-road Cubs team did him no favors, either. The Cubs weren't even the best team in the city (of course, that's the year the White Sox won the World Series). Meanwhile, the Pujols-led Cardinals won 100 games and the NL Central crown, while Jones' Braves came away with the NL East, marking the final time atop the standings in their decade-long reign in the division.
With time, more folks will forget just how good D-Lee was during his time on the North Side. But his monster 2005 performance is certainly worth remembering – because, at least in my mind, it was worthy of some MVP hardware.