Chicago Cubs desperately need to bring back Kris Bryant this winter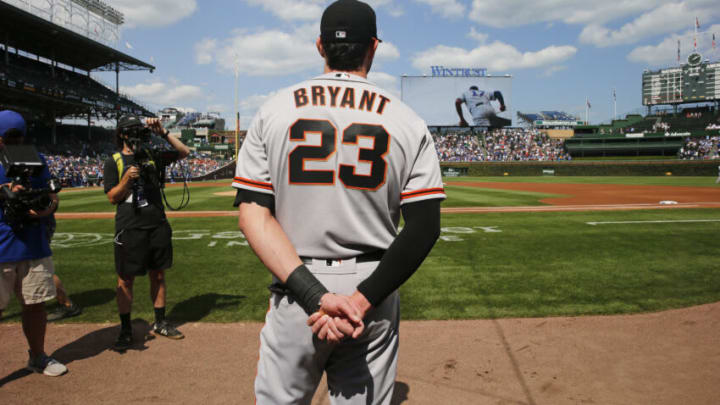 (Photo by Nuccio DiNuzzo/Getty Images) /
Going into this offseason and free agency, the Chicago Cubs have three players under contract: Jason Heyward, Kyle Hendricks and David Bote. Beyond that, everyone else is still on their rookie deals. Of those guys, the one notable is Willson Contreras who is due to hit free agency next winter, barring an extension (or a trade) coming together beforehand.
With that, it doesn't take a rocket scientist to see that the Cubs will be spending some money this offseason. Tom Ricketts has not been shy about saying the money is there, but President of Baseball Operations Jed Hoyer and brand new GM Carter Hawkins have been adamant in saying they will be partaking in "smart spending" when signing this offseason. This feels a bit like mixed signaling to me, but it's right on par with how last season went.
The one area we know will be addressed is starting pitching. That is the one facet of the team Hoyer has been very direct about. Last season was one to forget when it came to pitching, and you cannot win in this league without having a top tier rotation.
Likewise, it is very hard to win if your offense isn't plating runs. The Cubs blew the team up this past summer in hopes of maybe not starting completely over, but at the very least re-setting to move forward. The Cubs will need to look at options to bring some offense to the side.
May I present Kris Bryant as a viable option?
Chicago Cubs: A dynamic offensive player? How about Kris Bryant?
Bryant was traded to the San Francisco Giants from the Cubs on July 30, one of the darkest days in Cubs history. He went on to help the Giants complete their 107-win season and clinch the NL West. Although bounced earlier than they wanted to be in the NLDS, the Giants still benefited from Bryant batting .500 in the series, keeping them in games offensively and defensively.
Bryant is a player who plays all over the diamond and loves the opportunity to do so. He gets excited at the idea of not knowing where he's playing until he gets to the park that day because it reminds him of playing in little league. You can tell by looking at him, he is having fun playing the game again, much as he did in '15 and '16.
The type of player Bryant is can bring a team to life offensively, but defensively he is an asset there could never be a price tag on. There is no reason he cannot fit into the mold of any team with his versatility in the field because it is almost limitless. He is the ultimate Swiss Army knife – he does not prevent anyone from playing a particular position because he can just play somewhere else and stay in the lineup.
The Cubs toyed with Bryant's service time early, the two sides could never come together on an extension (efforts on the Cubs end were subpar in my opinion), the trade rumors were never controlled or shut down, and I believe all of these things prevented a long-term (lifetime) relationship between Bryant and the Cubs.
Now, Theo Epstein is gone and Hoyer is at the helm. Hawkins is a fresh face with a new plan. Ricketts says the money is there to make a splash. I think it's time to bring him home and rebuild a burned bridge.