Chicago Cubs News
Chicago Cubs: Flies in the ointment, asking 'where did it all go wrong?'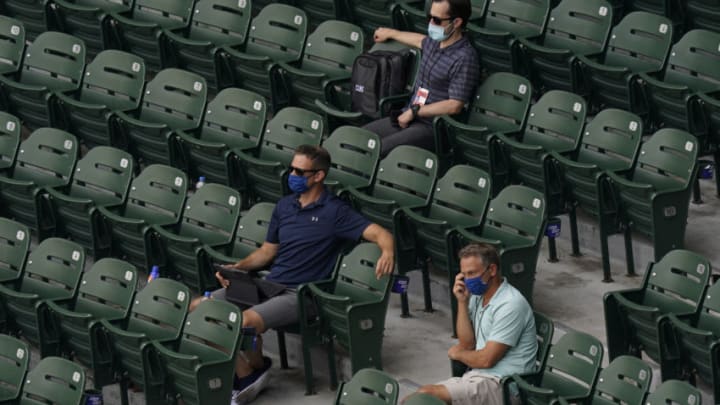 (Photo by Nuccio DiNuzzo/Getty Images) /
(Photo by G Fiume/Getty Images) /
Chicago Cubs: Some notable swings-and-misses from management
Hindsight, of course, is 20/20 at least, and from this vantage point, it's easy to see the Cubs might have been better off letting Jason Heyward and his pool-noodle bat play somewhere else, and signing Bryce Harper when he became available.
His reportedly amazing locker room rah-rah speech in the 2016 World Series notwithstanding, Heyward has done little at the plate to justify the expense in the eyes of fans. He's lost his way offensively, if ever he was on the right path, and has been untradeable for the lifetime of his deal. He catches flies readily, but he lacks swat.
In 2018, when Harper was getting ready to hit the market, Theo Epstein was talking about having enough money available to do things like signing Harper, a boyhood acquaintance of Bryant. But the word seemingly came down from upstairs, and he stopped talking that way. Harper went on to sign with the Philadelphia Phillies instead.
After all, the Cubs already had Yu Darvish, who had signed in 2018 and then stank so bad that he drew flies and catcalls. It seemed that Darvish was broken, and everyone and Junior Brown wanted him out of town pronto. His flies went out of the yard.
In 2019, he turned in a Cy Young-worthy season, and leveled off but still pitched well enough in 2020 that he seemed a keeper. This enhanced his value to the point that he was dealt to San Diego with his personal catcher, Victor Caratini, for alleged major-league pitcher Zach Davies plus four prospects: Owen Cassie, Ismael Mena, Reginald Preciado, and Yeison Santana, all of who have done well enough in the low minors but are years away from the Show.
Davies was one of the worst pitchers in the Majors, and won't be seen in a Cubs uniform again. His flies went out of the yard with frequency, but his stuff stayed the same.