Chicago Cubs News
Chicago Cubs join the infamous 1,500 strikeout club in loss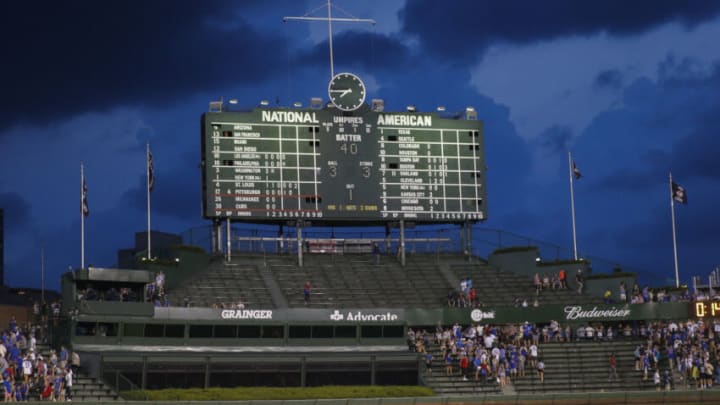 (Photo by Nuccio DiNuzzo/Getty Images) /
On Wednesday night the Chicago Cubs helped Twins rookie starter Joe Ryan make history by striking out 11 times in just five innings. Ryan became just the second rookie starter since 1901 to go at least five innings while allowing three or fewer hits in his first four major league starts. He struck out the last seven Cubs he faced, falling just three short of Tom Seaver's consecutive whiff record.
This Cubs team has also made another kind of history. With 1,520 strikeouts, the 2021 Cubs are now one of just 19 major league teams since the origin of the universe to whiff 1,500 or more times. Don't try this at home, kids: just three of those 19 teams had winning records. Yes, power can make up for strikeouts, but not this close to the event horizon.
By far the most successful team in the 1,500-whiff club was, oddly enough, the 2015 Cubs.  That team struck out 1,518 times, but they did many other things extremely well. They were second in the majors in walks, eighth in stolen bases, first in defense, and second in baserunning runs (the last two rankings according to Fangraphs). The pitching ranked in the top three under most key metrics. The 2021 team can claim none of those successes.
Chicago Cubs will look to cut down on strikeouts moving forward
There are a few positive signs. The likely starting middle infield next year (Nico Hoerner and Nick Madrigal) is strikeout-lean.  Madrigal's career strikeout rate is 7.4, lower than any active qualifying player. At his 16.1 percent career mark, Hoerner would be among the lowest 40 major leaguers. Frank Schwindel's strikeout rate currently sits under 16 percent.  (Patrick Wisdom, on the other hand … well, you can see for yourself.)
Brennen Davis, the Cubs' next big thing, has also shown good contact potential. Thrown into the AA fire this season after a year at the alternate site, Davis' strikeout rate exploded to a Baezian 30.7 percent. But he's kept it under 20 at every other minor league stop, including seven promising games at Triple-A this year.
The other hitting prospects in MLB Pipeline's Cubs Top 30 are showing decent discipline, except the still-extremely raw Ed Howard. Other than Miguel Amaya, whose hit tool remains in question, these guys are years away. Still, the early returns are mostly promising.
The Cubs have a long list of roster repair projects to carry out this winter. Beginning to reduce the breeze coming from home plate will be high on that list.