Chicago Cubs News
Chicago Cubs: An emotional day watching Kris Bryant's return to Wrigley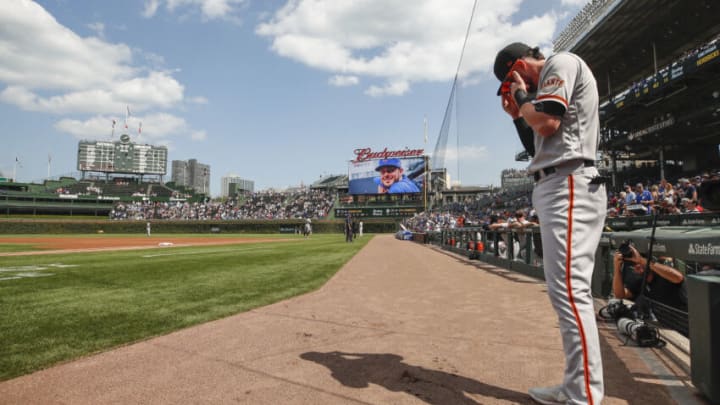 Mandatory Credit: Kamil Krzaczynski-USA TODAY Sports /
(Photo by Nuccio DiNuzzo/Getty Images) /
Chicago Cubs: Was this about to be the worst day ever for me as a fan?
My ticket was scanned as I entered the very busy concourse. Concessions lines were filled with people preparing to sit for the long haul. Per my usual schedule, I walked right up to the Old Style line to get my beer, and proceeded to walk up the steps to my favorite view in baseball. The grass, ivy, and old scoreboard creating the most perfect pallet of greens you'll ever see. I got to my seat and filled out my lineup card (of course I kept book). Reality really set in for me when I wrote "23 K. Bryant LF" in the fifth spot on the wrong side of the paper.
Kris Bryant is a San Francisco Giant. This is the worst. Was I in for the worst day ever?
I began to think about the entire process, starting with the service time grievance and "seven is more than six" ringing in my head like nails on a chalkboard. I thought about the trade rumors beginning a season after adding a Most Valuable Player award to his already ridiculous resume three years in. I thought about how mentally tolling it must have been to hear day after day people say he didn't want to be in Chicago when in reality this is the only place he ever wanted to play.
I thought about how just a day earlier he was able to walk around the neighborhood to see his mural, visit his batting cages at Sluggers, and meet with some members of the media. He repeatedly said how Wrigley Field and Chicago would always be home to him, but how he was excited to be able to finally have closure and close this chapter of his life.
Reading between the lines, I think the door is closed on him returning to the Cubs. It may not be bolted shut, or locked even. But the door is, at the very least, closed.